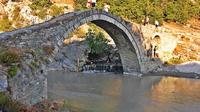 250 €
Wonders of Albania: 3-Day Trip from Tirana
This multi-day Jeep tour in South Albania is designed for those who want to travel off the beaten track and explore some of the amazing rural locations that ordinary tour buses just cannot reach. The specialized vehicles make it possible to reach areas such as the Osumi Canyon, old villages of Albania, and the off-road path to Permet.
Day 1: Tirane – Durres
From Tirana, head to Durrës, located in central western Albania. Stop for a coffee to enjoy the beautiful view of the Adriatic Sea, then visit the Durres Amphitheater. Located in the center of the city, it was built in the second century and is one of the largest amphitheaters in the Balkans. From Durrës you'll travel to Berat, the antique city. On the way to Berat there are wonderful views of the agricultural region of Lushnja. Once in Berat, pay a visit to the castle of Berat, an ancient fortress overlooking the city. Stay the night in Berat's historic Old Town.

Day 2: Berat – Canyons – Permet
After taking in all the beauty that Berat has to offer, head to the Osumi River and canyon. One of the most spectacular natural attractions in Albania with heights up to 26 km, the canyon contains many underground passages and unexplored caves and provides breathtaking views. Next, head off-road to Permet via the mountain road where the adrenaline rush is guaranteed. Located 14 km from Permet, the Benje thermal baths with their sulfur-rich waters offer many curative effects. With temperatures from 26º to 32º C, the healing waters are thought to be cures for chronic diseases such as rheumatism, stomach conditions and skin diseases. Return to Permet to stay the night.

Day 3: Gjirokaster – Tirane
On the final day you'll visit Gjirokaster, an ancient city which lies in the historical region of Epirius. Nestled in a valley of the Gjere Mountains, Gjirokaster sits beside the Drino River at 300m (984 ft) above sea level and is famous for its beautiful stone houses and steep stone streets. Take some time to wander the ruins of the castle of Gjirokaster which overlooks the city. The castle contains a military museum featuring German and Italian artillery from the Communist resistance as well as a captured US Air Force plane which commemorates the Communist regime's struggle against the "imperialist" western powers. As you head back to Tirana, you'll pass through Tepelene, known for its many spectacular natural monuments. A few stops to see some of the sights here and then back to Tirana.