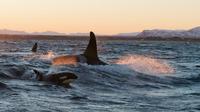 255 €
Winter Orca and Whale Safari in Lofoten
Enjoy the Orcas and Whales in the Arctic sea. An unforgettable experience for life.

Killer Whales and Whales gather in the Norwegian sea to feed together with other species such as Pilot whales, Fin whales, Minky whales, Sperm whales and others. It is a spectacular show, something you will never forget. 

It's such a strong and powerful experience that you cannot miss if you decide to explore this paradise called Norway.
Living in a matriarchal society, it is very common to meet killer whales in big groups; males, females and calves together traveling, feeding, resting or socialising. Socialising is a moment of joy and happiness and you will be the spectator of one the most interesting and joyful moment of these creatures' life.

With the Norwegian sea being biologically very productive, it is the perfect winter feeding ground for many other whales as well. The Humpback whales are very common in these waters in wintertime. Huge and social, it is a real pleasure to encounter them while swimming.

Big cetaceans need deep waters to dive and killer whales feed mostly on herring. Those are the two reasons why both can be observed in Andenes, Vesterålen archipelago.

Andenes is about 200 kilometres north of Svolvær and it takes about 3 hours by car and ferry to reach it one way.
We can consider this transport a good and unique opportunity to get a general idea of another area further north. The guide will give you all the information and, if possible, we will try to do our best to take some unexpected pictures.

To make this experience unforgettable, we offer RIB tours. The Rib (Rigid Inflatable Boat), max. 12 seats, is absolutely safe and its flexibility allows closer and better encounters.

The tour includes: transport by car and ferry, English-­speaking guide (other languages on request), thermal suits, gloves and glasses, warm soup after the tour.