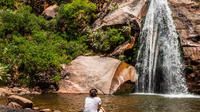 143 €
Trekking at Cascadas Del Rio Colorado from Cafayate
Just 10 kilometers from the city of Cafayate, we can find the Colorado River Springs (Cascadas del Río Colorado). This tour invites you to take a recognition hike in a wonderful place, barely visited by man.

The Trekking at Cascadas del Rio Colorado from El Cafayate will take us to discover corners of the province of Salta, in a combination of hiking, climbing and swimming activities. Our professional guide, a native of the place, will be the perfect leader for this expedition.

Snacks, water and transfer from your hotel in Cafayate are included!
The tour starts when our guide pick us up get in a private car from our hotel in Cafayate. After traveling 6 km by a gravel road we arrive at a place called El Divisadero, where we will begin to enjoy the trekking and climb activities to the waterfalls along paths made by the continuous traffic of goats, and in other cases, man-made.

The road begins in a quiet dirt path alongside the Colorado River, located in a canyon between two mountains of stones of different types of brown and gray, with green cactus distributed everywhere.

The Colorado River forms seven waterfalls, where three are the most important. Crystal jets of water falling sharply on the green painted rocks green justify continuous stops along the route.

The first of the waterfalls has a fall of five meters high and forms a small basin of 1.80 meters deep. The second waterfall is located 50 meters from the first one and the water falls from almost 8 meters. To reach this spring, we will have to climb a wall of 4 meters.

We will keep going upstream and about about 200 meters further, we will find the third waterfall, which forms a small lagoon with a depth of two meters and a half.
Here we will stop to rest, freshen up in the lagoon and eat a snack.

We will continue our way through the many trails and after nearly 4 hours of walking in which we will observe different landscapes, we will return to the starting place to take the shuttle back to our hotel.