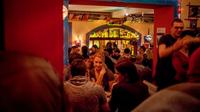 37 €
L'activité n'est pas disponible, essayez une autre recherche !
Tirana by Night Small Group Tour with a Local
Cocktails and communism! Okay, so maybe you wouldn't put those two things together… unless you're in Tirana, that is. In this city, a former government compound is now the city's trendiest district, and bars serve a dose of communist history along with their cocktails. Come out for some raki and learn how the city has come alive since the fall of the regime.
You'll start your Tirana tour at Skanderbeg Square, the city's social and cultural center, and a favorite place for people-watching and snapping photos of this city.
From there, you'll head to a little place that's part café, part museum. You'll discover a collection of souvenirs, knickknacks, and household items reflecting 1970s and 1980s Albania, and the communist regime. Old televisions, radios, armchairs, childhood items — it's all gathered in this eclectic spot, and you'll get to see an Albania that most visitors miss. But of course, this is also a drinks tour, so while you're here, you'll enjoy a beverage! Different liquors are offered, but we recommend starting with an Albanian tradition, raki.  
Next up, you'll tour around some of the city's major sites, including a truly bizarre piece of Albanian history: the Pyramid of Tirana. This museum was built in honour of the Stalin-influenced dictator Enver Hoxha, but today is a run-down remnant of communism and a canvas for graffiti. Along your walk, you'll also see the prime minister's building, the Presidential Palace, and another treasure from Albania's communist days, the Bunker.
Your Tirana tour will then take you to the Blloku district, considered to be the city's hippest neighborhood. You'll hit up a club that plays a mix of throwback 90s music and is a great spot for good, cheap cocktails. You'll chat with the bartenders and get a quick mixology lesson to learn how they make their drinks. After that, we'll get a tour past the other hot spots and see what nightlife is like in this vibrant district with a stern past. While today Blloku is a popular hangout for locals, 25 years ago it was a closed-off compound reserved for the communist leaders of Albania. You'll hear the story of how it transformed from a dictator's home to a thriving neighborhood for the people.
After you've explored the Blloku area, your Tirana tour will take you back to the city center, where you'll end the evening and you'll be free to continue your night out in Tirana on your own.