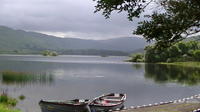 375 €
L'activité n'est pas disponible, essayez une autre recherche !
The Ring of Kerry Private Driving Tour from Killarney
The Ring of Kerry is a mystical Celtic trail that flows through some of the most dramatic scenery on Ireland's largest peninsula, Iveragh. Mesmerizing panoramas skillfully shaped by the elegant hand of nature await your eyes. The "Ring of Kerry" is a spectacular scenic route in South West Ireland. This private tour lasting 6-8 hours is the best way to enjoy all the sights and scenery the route has to offer as you get to travel to places where buses have no access. You can be in charge of the itinerary.
Renowned for its beauty, famed for the splendour of its scenery, South West Ireland is one of the world's best loved tourist destinations.

Situated in the south-western corner of Ireland, with its three famous lakes reflecting the ever changing skies above the great mountain ranges, Kerry has been the inspiration of poets and painters for many centuries. Leave the stress of driving behind you and avail of a private day tour around this beautiful area.

Your guide and driver is fully certified with an excellent local knowledge of the area and almost twenty years experience in the tourist industry which will enhance your enjoyment of this beautiful part of Ireland.

The Ring of Kerry is a world-famous route following the N70, N71 and N72 roads in a circular direction around the Iveragh Peninsula. The route starts in the town of Killarney and passes through the towns and villages of (in order): Killorglin, Cahersiveen, Waterville, Sneem, Kenmare, and finally back to Killarney.

A private tour of the Ring of Kerry has great advantages. Of course you can visit the well known places of interest (for example: Torc Waterfall, Muckross House and Gardens, Kerry Bog Village and the Coomakista Pass). In addition, you can see some lesser known places that are equally impressive.Cromwell's Bridge is a mysterious bridge in the centre of Kenmare. Folklore goes it does not get its name from Oliver Cromwell but is named after the Irish word 'croimeal' – which means a moustache! The Stone Circle in Kenmare is the largest of its kind in south-western Ireland.

The Skelligs Ring boasts panoramic views of massive cliffs. The Skellig Islands can be seen in the distance. On Valentia Island, humans have been active from at least 4.560 B.C. Along with stunning scenery, Valentia Island is home to the Skellig Experience and Valentia Heritage Museum. At the Valentia Slate Quarry, to this day slate is being mined. Slate from here was used for the Opera House in Paris and Westminster Palace in London!

Ballycarbery Castle dates from medieval times and as old as it is, it still dominates the area to the present day. On a private tour, you can stop anywhere you like. You will not miss any Kodak-moments and your guide can advise you on great places to have lunch, coffee or an Irish pint of plain. Several variations on the official route exist, that include for example Valentia Island and Saint Finian's Bay.

The tour can take you to all these places, including of course the famous highlights such as the Gap of Dunloe, Kerry Bog Village, Derrynane House and Gardens, Valentia Island, Muckross House and Ross Castle.

This tour offers you complete comfort, safety and reliability in a brand new air-conditioned Executive class Mercedes 220, accommodating up to three people.