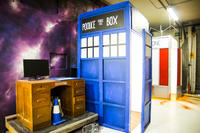 25 €
The Mystery Rooms Melbourne
Grab a team of 4 to 6 friends and head to the Mystery Rooms in Melbourne's trendy Fitzroy. Your group will enter the themed room of your choice in order to solve puzzles and discover cludes while trying to escape within 60 minutes. Unlike traditional escape room games, you are not locked in, but led into the beginning of a mystery that requires solving to delve deeper into the experience. The rooms are interactive, imaginative and as realistic as a real life film set! There are three great experiences to choose from -- Tomb Raider Zone, Outlaw Zone and the Medieval Zone.
Choose from one of the following three experiences:

Tomb Raider Zone
Buried deep beneath the soils of Alexandria lay clues to explore one of the greatest ancient civilizations – the empire of the Egyptian Pharaohs. In your journey you will be transported to another time, braving tales of curses to discover hidden secrets. Can you unlock one of the great mysteries that has baffled archaeologists for centuries? This room will require you and your team to work closely together, challenging your perceptions and thinking in order to complete the task at hand. You have 60 minutes and the clock is ticking….

Outlaw Zone
Form your own gang and follow in the footsteps of Ned Kelly, Australia's most notorious bushranger. Set in the early hours of 27 June 1880, moments after the Kelly gang's infamous last stand at Glenrowan, you will be plunged deep into a mystery shrouded by claims of conspiracy and tales of folklore. What is true? What is not? Who can be trusted? Journey through Kelly country to discover the truth before it's too late. This room will throw you deep into Australian history and you will need to use a range of skills and creativity in order to get yourselves out. You have 60 minutes…..let the challenge begin

Medieval Zone
On an early morning stroll in England's peninsular county of Cornwall, a distant glimmering catches your eye. As you approach to get a better view, you notice the faint outline of a doorway opening at the back of the disused tin mine. Suit up and prepare to follow England's infamous knights in the pursuit of the Holy Grail. Only watch out for Merlin as his magic is still protecting Camelot's legendary secrets. All is not what it seems, rights appear wrong and wrongs appear right- it is down to you and your team to solve the mystery before someone else does. With a 60 minute window this room is the ultimate challenge, full of twists and turns as you work together to reveal the truth.