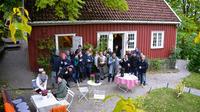 38 €
Taste of Oslo Walking Tour
The Oslo Tour is a  guided walking tour that aims to let you experience Oslo like a local, and sample traditional Norwegian dishes, snacks and drinks. The guides take you trhu   local sights and gems that are hard to come by on your own, and shows you the best spots for enjoying real Norwegian food. Truly the best way to see the city and try traditional Norwegian food. Take a trek around the city and get to know places full of tradition, history and fun facts. See what Oslo is made of and get an enriching experience that will make your tour a lot more worthy.

The client will have the choice to order this tour with alcohol or without alcohol, making the tour cheaper if she/he dont drink.
Obs: The client most notify us on advance so we can give an early order to our tasting places.
Taste Of Oslo  is a Food Tour for those who like to try something different.
This 3-4 hour tour starts downtown and it will led you to local spots of the city with interesting history and yummi food. The local guide will meet you just by the chocolate store " Freia" and together you will visit a unique " Bunad Store". Bunads are the traditional clothing Norwegians wear on their most important days. ( Note some days this store might ve different opening hours).
After seeing this cool store, your food tour starts with very good portioned Brunch. The guide will else explain you the tour plan and its main stops. Remember that on this tour you will be having 3-4 stops with food tastings including 3 local/Norwegian beer.
The guide will else take the group on a fun and cool experience by taking the local transportation. This is just a 5-9 minute ride and is just so you see how effective and nice is to go on public transport. Do not worry the tickets are covered by us.
Cheese tasting is else one of our favorite things on this tour and if you havent taste Norwegian brown cheese. You should go a head and book this tour.
The journey will end by the river that crosses the city, is just 5 minutes from the main  church located on the main street of the city ( not far from the tour started).

We recommend not to have a big breakfast since this tour is very satisfying 
IMPORTANT: FROM THE 01.10.2017  TOURS WILL BE STARTING AT 13:00