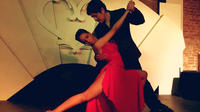 91 €
Tango Love Show with Dinner in Buenos Aires
Enjoy an unique dinner at the City of Buenos Aires. Be a witness of an elegant and amazing Tango Show while you be delight of a first class meal prepared with high-quality products. You will find yourself in a quiet restaurant, tucked away in downtown Buenos Aires. The place is accessible from anywhere in the city, but its strategic location makes the noises of people and vehicles not to be a problem to enjoy the show and the music. This service includes a three course dinner, free drinks and a tango show performed by a pair of professional dancers.
You will be picked-up at your hotel around 6-7 pm. 

We will be greeted with a glass of wine while the hostess take us to our location. We will see that each table is facing the stage, therefore all views are privileged. Once seated, our waiter will present himself and he will deliver the menu, where we will be able to choose a starter, main course and dessert. After taking the order, he will approach with an appetizer: a table to taste various regional products, accompanied by exquisite homemade bread.The specialties of the house are divided typical cuts of Argentina beef, chicken, pasta or salads. Finally, the dessert will come to put the sweet touch to this delicious lunch.

Approximately at 9 pm, we will begin to hear the tango music that will define the start of the live show with dancers who represent the best of tango.The dancers will interpret different scenes of everyday life that happened in the golden age of tango in the country.We will find professionals who not only use the stage, but they will be also dancing among us, allowing us to observe closely the delicate and perfect movements of their bodies.

After an hour of show, we will be more than satisfied with all the attention and services received.After the show, at around 10-10:30 pm, you will be taken back to your hotel.