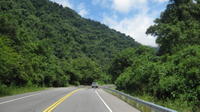 76 €
Tafí del Valle Half-Day Tour from San Miguel de Tucumán
The Diaguita Indians called Tafí del Valle "the town of the magnificent entrance;" and they were right: Tafí del Valle is one of the most heavenly destinations in Tucumán. Once people get to this summertime villa, the valleys welcome their visitors with their green and brown colors that contrast with the blue sky, with a dike over which the sun reflects and with unpaved roads that are a testimony of years of history.

Only 107km away from the capital, Tafí is located at 2,000 meters above the sea level. It has a very pleasant climate, which allows tourism all year long.

Despite the fact that the place has developed a lot during the last years and that it has become the ultimate destination for Argentineans and foreigners along the year, Tafí still preserves the mystery of its aboriginal culture among its hills.
Leave your centrally located Tucumán hotel and travel to Tafí del Valle, a valley located at 2,000 meters above the sea level.
After a 107km drive, in our first stop we will visit the Jesuit Chapel and Convent of San José de Lules where the chapel and cloister remain.
Then we will start ascending the valley through the Route 307. The road goes into the Los Sosa River Gorge, part of the Natural Reserve with the same name. Continuing, we will sight the monument "El Indio".

Higher, the entrance to the Valley of Tafi is simply shocking. Surrounding La Angostura Dam we will arrive at The Mollar to visit The Menhires. It only takes a walk along the Archaeological Reserve Los Menhires and a look at the 50 types of rocks dating from more than 2,000 years (from the beginning of the Christian era)- that rise up to 3 meters high- to be amazed by the archaeological legacy of the primitive races.
The word menhir has a Celtic origin and it means "long stone". The shapes represented in the mehnirs are surprising: sometimes they show human faces and other times animal faces, mainly felines. Others are geometric and there also are combinations of different types.

Inside Tafí del Valle, the Jesuit architecture is preserved, the oldest section was built by the Jesuits in the first half of the eighteenth century.
In the valley we will have free time for lunch (optional) an then we continue through the Route 307 up to the viewpoint from which the best views of the valley are obtained.

Back in Tucuman we will visit the Atahualpa Museum, where your tour ends with a hotel drop-off.