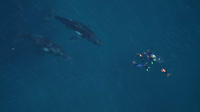 371 €
Swim with Humpback Whales Adventure Day from Exmouth
Guests on our 2016 Humpback Whale Swimming Tours described the experience as 'life-changing' and 'the best thing I've ever done'.  Do you want to have this unforgettable experience?
New – Swim with Humpback Whales Adventures
The chance to swim with Humpback Whales is an opportunity that has only been offered in Western Australia since 2016, when selected operators were granted licences on a preliminary trial. From being an endangered species, conservation efforts are estimated to have boosted the migrating population of Humpbacks to around 30,000, resulting in the species being delisted as endangered – great news for the whales and for those who are passionate about wildlife. The licences to offer Humpback Whale swimming experiences were extended to selected operators in 2017, allowing us to offer you an intimate swim with Humpback Whales experience again this year.
When can you swim with Humpback Whales?
Each year, Humpback Whales begin their epic migration northwards from the cold waters of Antarctica, to the tropical waters of Broome, Western Australia. Their migration is one of the longest of any mammal in the world at approximately 6,700km long, and lasts for up to 8 months. The Exmouth Gulf, where all life on Ningaloo Reef starts, provides an important resting area for the whales and offers one of the best chances to see them up close.
We will be offering our Humpback Whale Swimming Tours as part of a limited trial from 1 August to 31 October 2017, when thousands of Humpbacks are expected to again pass through the Ningaloo Marine Park.
Why choose our Humpback Whale swimming tours?
Our focus at Live Ningaloo is on offering bespoke small group tours.  We host a maximum of 10 guests on our Humpback Whale swimming adventures so you can benefit from an intimate and high-quality tour experience.  We are one of only a few operators who have been licenced to trial Humpback Whale swimming tours again in 2017.
On our tour, you'll be able to interact closely with magnificent Humpbacks, the acrobats of the ocean. We will escort groups of five at a time to snorkel and swim within a safe distance of them. The whales, measuring up to 18m long and weighs as much as 40 tonnes, and are easy to spot as they exhibit behaviours such as breaching, slapping the water with their tales (flukes) and fins, and blowing streams of water up to 6 metres in the air.
What's included in the Swim with Humpback Whales Adventure?
Our bespoke Swim with Humpback Whales Adventure Day includes:
Complimentary transfers to and from Exmouth township to Tantabiddi Boat Ramp departure point
Full day (7 hour) excursion shore to shore
Luxury vessel 'Wave Rider' with qualified skipper, deckhand, photographer and marine scientist guide
High quality wet suits and snorkel gear
Educational 'pre-swim' session
Light Morning tea and beverages
Gourmet lunch
Glass of champagne at day's end to toast your adventures
Spotter plan guidance
Professional digital photography on deck and underwater supplied at no additional cost
Afternoon coral reef snorkel (conditions permitting)
The Ningaloo Reef is home to abundant sea life and you may also spot dugongs, turtles, Whale Sharks, blue whales, minke whales, orcas, dolphins, manta rays, stunning tropical fish and many types of coral on your adventure.
Please note: we are currently taking bookings for the 2018 Swim with Humpback Whale Adventure Day Tours, pending confirmation of the trial extension into next year.