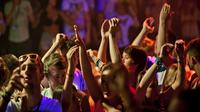 110 €
L'activité n'est pas disponible, essayez une autre recherche !
Sunny Beach 7-Day Events Package
Party Hard Sunny Beach Ultimate Events Package
If you want the ultimate party experience in Sunny Beach then upgrade your holiday to the Party Hard Ultimate Package so that you can party all day and night at the best events for your whole holiday!
Upon arrival in Sunny Beach your Party Hard Sunny Beach Rep will meet you at the Viking Souvenir shop opposite The Viking where you will receive your individual event tickets for the week.

Beach Party Live Event (Worth £15)
After adding this to our summer 2016 and hearing some great feedback, we're bringing it back for this summer! 
Room 2- All night free bar (Worth £20)
You've heard the stories from your mates, you've seen it on the TV, now's your chance to experience the legend that is, Room 2! As part of your package you get access to this epic event which includes an ALL NIGHT FREE BAR!
The Full Moon Party (Worth £15)
Bringing Thailand to Bulgaria, the Sunny Beach Full Moon Party! Dance all night long on the beach with a free bucket of booze and a free shot on arrival to get your night started the right way. 
Party Square Bar Crawl (Worth £10)
5 bars, 5 free drinks, 1 world-class night club. We'll start you off in the 5 best bars in Sunny Beach, with a free drink in each one. Expect lots of drinking games and if you're still up for the challenge you can join us at the best nightclub in town; The Viking.
UV Party (Worth £10)
Light up Sunny Beach on one the favourite nights of the week. UV paint night is a guaranteed winner - tons of UV body paint will make you stand out in the club.
Party Hard Summer 2017 T-Shirt (Worth £10)
Let everyone in Sunny Beach know that you are ready to Party Hard! Get your free Party Hard Summer T-Shirt and go and make some unforgettable memories in the clubs of some of the biggest resorts in the whole of Europe.
VIP Bottle Night- Free bottle + Table (25cl per person) (Worth £30)
If you want to be treated to a free bottle of spirits each (25cl per person) then make your way to Den Glade Viking where you can party til the morning and listen to some of the best DJs in Sunny Beach.
Jager Night- All night free bar including Jagermeister (Worth £25)
Listen to some of the best DJs in Sunny Beach whilst being treated to an ALL NIGHT FREE BAR so head down to Room 2 and get spoilt with drinks and amazing music played by some of the best live acts and DJs!
Traffic Light Bar Crawl (Worth £10)
VIP Card- Free Viking Entry All Week + discounts (Worth £30)
The easiest decision you'll have to make all summer - A VIP Card gaining you access to exclusive discounts and FREE ENTRY to the best club in town - The Viking, ALL WEEK!
In the unlikely event that an event does not take place or is cancelled alternative arrangements may be made of equal value as compensation.