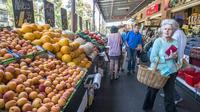 102 €
L'activité n'est pas disponible, essayez une autre recherche !
South Melbourne Market Adventure and Cultural Walking Tour with Local Guide
Get out of the city centre and explore Melbourne as a local!  South Melbourne is a buzzing, colourful market village with soul. It's the city's coffee central and the place for all things food, heritage, and culture. Go behind the scenes, taste the food, meet the vendors, and discover local culture and history.
Celebrate the local foodie culture of South Melbourne on this 4.5-hour walking tour! With your local host and an intimate group of 8 people or fewer, you'll discover the best of the bustling South Melbourne Market. Learn about the local gastronomic culture, history, and culinary traditions that are so unique to Melbourne. Sit down for a lunch (including beverages), and sample the locals' picks of coffee and Victorian wine or beer. Ride to the market on the local tram from the riverside starting point, then feel free to explore the location more fully after the tour ends. 
This Melbourne food tour changes daily, to ensure you have the best local experience available on the day — no rigid scripting here! But no matter the day, you're promised: 
Rare insight into the history of the city and how the character of Melbourne has developed from your riverside starting point 
A tram ride to South Melbourne so you travel just like the locals 
A sample of South Melbourne's best coffee with a special behind-the-scenes experience
A tour like no other of Melbourne's oldest market, packed with stories, samples, tastings, and time to explore
A delicious and wholesome sit-down lunch and drink at a specially chosen local spot
Views of hidden historical buildings and homes
A glass of local Victorian wine or beer at a classic South Melbourne icon
Access to a selection of specially chosen boutiques that showcase local designers and artists
A locally designed visitor's gift pack  
This tour is designed to start at a time when you can enjoy the market without too many crowds, and finishes with enough time that you can continue to enjoy the suburb's market, cafés, bars, and shops for the afternoon, or, if you're worn out from all that exploring, for you to head back to your hotel for a rest before the evening. Before you leave, we'll be sure to arm you with a few local tips so that you can find your way around and back to your accommodations, and so you can continue to experience the best of Melbourne like a local.