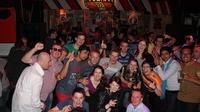 10 €
Sofia Pub Crawl Tour of The Hidden Unique Bars
The Sofia pub crawl is the night walk around Sofia's hidden and unique bars. This event is not for those looking for loud and smoky rooms; instead, you will hear different stories about the places visited and meet other tourists from all over the world. Therefore, a nice international evening with a lot of chatting is guaranteed. The event includes some free drinks at most of the places and free entrance to a club. Every location has its own style and is worth visiting it. You would not find these places on your own or just wouldn't dare to go in.

Note: The pub crawl has more guests on Fridays and Saturdays, so it may be hard to visit the most hidden bars. If you would like the best possible chance to see them, the best option is to come from Sunday - Thursday!
The pub crawl does a great job at showing you hidden gems of nightlife within Sofia. This is exactly what you want when you get tired of the usual cafes along the main boulevards.

What also makes the pub crawl fantastic is that there is a lot of history behind many of the establishments. As you're making new friends you're also learning some Bulgarian history.

The guides themselves are also what makes the pub crawl such a fun experience. They take the time to get to know you as well as getting the whole group to get to know each other. At the end of the night you're left with new friends, not strangers.

Especially if you're a solo traveler, this is a great way to socialize with great local Bulgarians and travelers from all around the world.

It isn't about getting drunk - much more about the people and the hangouts of the city. It is varied and interesting. Four hours slip by fast.

You get free beer at the first stop. A free alcohol-dessert with anything you buy at the second stop. Free beer on tap at the third stop. A free beer or a wine at the fourth stop and free entry to the club chosen for the night. 

This sofia pub crawl has the sole intent to provide its guests with a safe, comfortable and enjoyable atmosphere in which to party the night away.