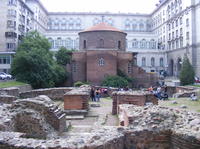 35 €
Sofia Food Tasting and Cultural Walking Tour
Discover Bulgarian cuisine and Sofia's sights on this 3-hour food and culture walking tour. Accompanied by a knowledgeable guide, stroll through Sofia's elegant center to see icons including the Presidency building and the National Theater. Along the way, sample a classic 'shopska' cucumber and tomato salad, with 'ayran,' a local yoghurt drink. Then, try some sweet treats at Central Market Hall (Tsentralni Hali), and visit a typical restaurant to enjoy locally made wine and a mezze selection of mouthwatering meat. Numbers are limited to 12 people, ensuring a small-group experience.
Meet your expert guide and the rest of your small group in central Sofia and set off on your walking tour.
Filled with elegant buildings and squares, Sofia is a dream to explore. As you stroll, discover the main landmarks, hear insights about the city's history and culinary heritage, and enjoy three or four food stops to try delicious local specialities.
Walk past the stately National Theater and admire the King's Palace and the Presidency building. Then, stop at a cozy cafe popular with the locals. Savor some shopska — a salad made from cucumber, tomatoes, peppers and onions — complemented by some frothy, cold ayran.
Continue to 'Small Jerusalem Square,' so-named for its proximity to four religious buildings: the Christian Church of St George, St Nedelya Church, the Banya Bashi Mosque, and the Sofia Synagogue.
Walk to your next food stop, the Central Market Hall
(Tsentralni Hali)
. Delve into this covered market and view its century-old architecture as you linger at some enticing food stalls. Sample classic Bulgarian sweets including baklava — filo pastries stuffed with nuts and soaked in syrup — and deep-fried tolumbichki, and perhaps taste some rustic sausages and nuts, depending on what's available.
Finally, ride Sofia's metro system, the newest in Europe, to your last stop, a popular Bulgarian restaurant set in four converted houses and decorated in distinct 19th-century regional styles.
Head inside to sample some fruity Bulgarian wine and mezze of local meats such as lukanka (salami), babek (cured sausage), fillet Elena (dry cured meat) and pastarma (cured beef).
Your tour ends at the restaurant, so you can stay on and enjoy more tasty Bulgarian fare before returning on your own.