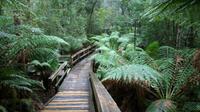 102 €
Small-Group Hastings Caves and Tahune Forest AirWalk Day Trip from Hobart
Take a spectacular day trip from Hobart through the Huon Valley. Highlights include a visit to Hastings Caves, with the pool fed by water from Thermal Springs, and the Tahune Forest AirWalk. Choose between a 7-hour (cruise ship passengers only), 9-hour or a 10-hour day trip with highlights including a guided tour through the Caves and the Tahune Forest AirWalk experience.
The 9-hour tour, departs Hobart, and takes a leisurely drive down the Huon Highway to Hounville, with a quick stop at the Apple Shed Museum (optional) and on to Franklin, where one can visit the Wooden Boat Center (optional). From there take the road south to the Hastings Caves where one can partake in a guided tour, with a specialist guide, through the caves, the largest dolomite caves in Australia. There is also the opportunity to take a dip in the pool, fed by water from Thermal Springs, before returning to Geeveston and to the Tahune Airwalk..

The Tahune Forest AirWalk, situated on the edge of 1.6 million hectares of World Heritage listed rain forest, opened on the 1st of July 2001, offers a variety of tranquil forest walks, which will definitely calm the mind, body and soul. The airwalk itself, with breathtaking views of the forest canopy, averages in height from 20 to 30-metres above the forest floor, with the cantilever situated at a height of 48-metres above the Houn River, from where you will experience the best views.The Airwalk, the numerous walking trails through the forest and the two spine-tingling swinging footbridges over the Huon and Picton Rivers, have made this one of the most visited tourism attractions in Tasmania. For an additional fee of $18 AUD, one can experience the Cable Eagle Hang Glider which whisks you 250-meters across the Huon River to stop 50 metres up in the air, before gliding back to solid ground, at speeds of up to 40-km/hr. A time allowance of 90 minutes has been included in the itinerary, which will allow customers time to experience some of the activities offered, However this can be extended by mutual consent of all concerned (at no additional cost), unless there is a deadline which needs to be met (such as a Cruise Ship departure).

The 7-hour tour takes the direct route to Hastings Caves, returns to the Tahune AirWalk and then returns directly to Hobart, without any other stops along the way. This option has been especially created for Cruise Ship passengers who have limited time.

The 10-hour tour is the same as the 9-hour tour, with the inclusion of a trip to the summit of Mt Wellington (weather permitting), in order to take in the spectacular views of Greater Hobart.