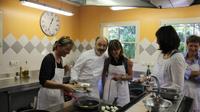 95 €
L'activité n'est pas disponible, essayez une autre recherche !
Small Group Hands-On Cooking Class in Kiama
Travel to parts of Europe and Asia with your palate in a selection of inspired cooking classes and meals. You have the option to take your tastebuds on a journey through France, Spain, Tuscany, the Mediterranean or Singapore. The climate that these meals come from is very similar to the local climate on the New South Wales south coast. These dishes translate well and are designed to enhance your cooking skills and repertoire. Numbers are limited to six in this small-group cooking class, ensuring you'll enjoy personalized attention from your host.
From the comfort of a home kitchen in Kiama on the New South Wales south coast, you'll start your food journey with an espresso and biscotti. The classes run for approximately four hours. This includes time to devour what has been cooked for lunch.

Choose from one of the following cooking classes. The dishes cooked are depdendant on the seasonal availability of the produce and may change due to the group's interests and requirements.

Journey to La Belle France
Inspired by la belle France you will learn how to cook and then dine on these classic French gems. This is combination of hearty and lighter fare straight from a Paris Bistro.

Sample Menu:
Scallops with Confit of Leek and Caviar
Caramelised Pork Belly with Roast Vegetables
Vanilla Cream Brulee

Journey to Espanola
Travel south now to Spain to Española. The meals reflect the warmer climate and place an emphasis on seafood. Hear the castanets, see the Flamenco dancer – and get ready for a siesta.

Sample Menu:
Clams a la Marinera
Braised Leg of Lamb with Pears
Caramelised Oranges

Journey to Tuscany
Take your palate on a journey through Italy. The menu is hearty fare, suited more for our winter time. The produce is a combination of country and seafood and the meals derive from tasty peasant origins.

Sample Menu:
Journey to Tuscany
Tuscan Soup
Octopus Braised with Tomato and Green Olives
Chilled Lemon Creme

Journey to the Mediterranean
Cook with the flavours of the Mediterranean and produce dishes that will have you imaging a whitewashed balcony overlooking the azure waters.

Sample Menu:
Chorizo Pilaf
Madras Fish with Tumeric and Vegetables
Macerated Oranges

Journey to Sizzling Singapore Singaporean
The food is light yet hearty and fiery and straight from the street food traditions of Nyonya cooking combining Chinese and Malay dishes with some Indian influence.

Sample Menu:
Coconut Milk Prawns
Salted Fish Pineapple Curry
Fruit Salad with Salt