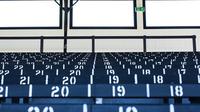 27 €
Small-Group Abbotsford Walking Tour in Melbourne
Get to know the Melbourne suburb of Abbotsford on this 3-hour walking tour with a guide who has the insider scoop on this local neighborhood, away from the touristy central business district of the city. You'll discover corners some residents don't even know, and learn about Abbotsford's transformation, told by a social enterprise that's helping Melbourne's homeless population. Sights you'll see include Victoria Park, the Yarra River, Abbotsford Convent, and a brewery. Tour is limited to 12 people to provide a small-group experience.
Your walking tour starts by meeting your guide and heading to your first stop, the original gates of Victoria Park, Collingwood's historical football grounds and once a place of escape from daily life and unemployment during the Great Depression.

Stroll around the back of this once-abandoned but now revitalized stadium, and hear about the history of Collingwood FC, seeing where old food stands and ticket gates once stood and where the seats have been removed but the frames remain. You can also check out the interactive area to hear the recorded sounds of the cheering crowds from the stadium's glory days. 
Next, walk along the Yarra River to Dights Falls, where you'll learn about the area's past and present, from the historical flour mill to the tragic tale of the Pappas brothers to the 'rough sleepers' of today. From here, your guide leads you down the river and shows you some Indigenous art while explaining the history of the Wurundjeri people and the significance of the Yarra. Amid all the green vegetation of the riverbanks is an abundance of street art that holds some interesting stories. 
Continue to Abbotsford Convent and wander through its landscaped gardens. This imposing building has played many roles throughout its history, and you'll learn how the gold rush, the recessions, and immigration all played a part in shaping the architecture and local industry over the years. Then head to F.A. Andrews Reserve, and learn how this area has been a training pad for world-champion cyclists. You'll also discover the significance of Studley Park, and take in some views of the city.  
Return to the Yarra trail, and learn about the region's native plants and animals as you make your way to Dickinson Reserve, past a little-known city winery, and finally to a photo op of the Skipping Girl Vinegar sign, Australia's first animated neon sign. Then explore the back streets of Abbotsford to see evidence of this former industrial area's future—warehouses and factories are being converted or knocked down for modern-day apartments. You'll spot some more street art, a few old worker cottages, and the old Kodak factory building. 
Your tour ends at Moon Dog Craft Brewery, where you are welcome to stay for a drink at your leisure (own expense) or continue your exploration of Abbotsford independently.