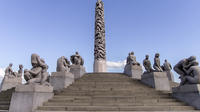 79 €
Shore Excursion: Oslo Highlights Tour with Viking Ship Museum and Vigeland Park
Oslo Highlights Tour is a wonderfully comprehensive sightseeing tour introducing you to the best of Scandinavia's oldest capital city with an enjoyable combination of relaxed sightseeing by bus and walking through the modest past and thriving modern day of Oslo. In addition to an introduction to the central highlights of the city, you'll visit the Vigeland Installation in Frogner Park and the Viking Museum. This tour is a great way for you to see the major attractions of Oslo during your short time in port.
00:00 Meet & greet followed by a sightseeing tour along Oslo fjord waterfront
Tour will start roughly 30 minutes after your arrival
00:00-01:00 Scenic drive and visit of Oslo Opera & Ballet panoramic rooftop
01:00-01:50 Walking tour of Oslo city center on Karl Johan & City Hall building
01:50-02:50 Guided Tour through Vigeland Sculpture Park 
02:50-03:45 Viking Ship Museum visit 
03:45-04:00 Return to cruise port.

In just half a day we will take you from the striking architecture in the majestic city center to the mighty past of seafaring Nordic folk at the Viking Ship Museum leaving time to visit the must-see venue of Nobel Peace Prize ceremony as well as experience the personal legacy of Gustav Vigeland Sculpture Park. A world's largest collection of human figures by the same author, inexplicable and delightful at once.
Following a warm welcome at the cruise port, we will continue on a sightseeing tour by bus through the city center towards the Oslo Opera & Ballet, where we will admire the panoramic rooftop views.
Thereafter, all roads seem to lead to the unique back-bone of Oslo, Karl Johans Gate, a street crowned with the Norwegian Royal Palace on one end and the Parliament building on the other with the University, National Theatre and City Hall nestled perfectly in between. We will also pay a visit to the magnificent City Hall building inside. Known as the venue for Nobel Peace Prize ceremony, the people of Oslo also selected their City Hall, a site filled with local artists work, their "Structure of The Century".
Our day of discoveries continues with a walk in the most impressive sculpture park by Gustav Vigeland, showcasing one man´s legacy in a form of amazing statues depicting in art the circle of life in the most touching way. 
Arriving in the greenery of Bygdøy peninsula, we will learn of the extraordinary stories of 1000-year-old Viking ships. Surrounded by the rugged nature of Oslo fjord and hilltops, the unique craftsmanship and talent of the old burial ships seem right at home.
A wonderful day of touring the Nordic seaside comes to an end with return transfer to the cruise port.