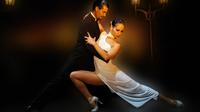 102 €
Señor Tango Dinner and Tango Show with Optional Private City Tour
Señor Tango is a spectacular Broadway style show, the biggest in town. It features outstanding performances and visual effects, the last generation technology, and the main theme of the Musical "Evita". You can choose to add a private city tour and enjoy a thorough tour of Buenos Aires and its main landmarks.
Enjoy a wonderful dinner and tango show at the most popular tango show in Buenos Aires, the "Cathedral of Tango", a former general store converted into the biggest tango theater in Buenos Aires. The show was created in 1996 by Fernando Soler, a famous argentine artist, who is the main singer at the show every night. It boasts 4 singers, 18 dancers, 2 orchestras and live horses. Its round stage, the last generation technology, visual efects and the voice of Fernando Soler makes Señor Tango a unique show. The show closes with an amazing performance of "Don't cry for me Argentina".

You will also enjoy a three course dinner at shared tables (between 9-12 people). Dinner is served between 8:45pm and 10:15pm, with the show starting at 10:15pm and ending at 12:00am.

Sample dinner menu (subject to change):

First course


Fresh spinach crepe with cream sauce
Main Courses (choose one of the following): 

T-bone steak with rustic potatoes au fines herbs and Pilaf rice 


Grilled chicken served on spinach puree and creamed potato volcano


Grilled trout with risotto ai funghi and potatoes noisette

Dessert
Dark chocolate cake with fresh red berry sauce
Beverages 

Bodega Finca Las Moras (half-bottle per person) 


Beer (free)

Soft drinks and sparkling/non-sparkling bottled water (free)
Optional Private City Tour:
If you choose the city tour option, you will enjoy a 4-hour private Buenos Aires sightseeing tour. During the tour, you will visit the most important landmarks and picturesque neighborhoods. See Plaza de Mayo, Casa Rosada (Government House) and the Cabildo and Metropolitan Cathedral. Stop by Cafe Tortori, a famous and traditional cafe. Then, head to San Telmo seeing its cobbled streets and antique shops. Visit La Boca neighborhood, including the mythical Caminito street and then head to Puerto Madero admiring the modern buildings and chic restaurants. Then, go to Retiro neighborhood, stroll through Palermo neighborhood and end the tour at the Recoleta neighborhood where you will visit the legendary cemetery where Evita's tomb is located.