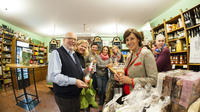 270 €
Regional Food Tasting Tour in Salzburg
Discover Salzburg's food scene on a 3 hour walking tour and get an insider's view of the city with cultural and culinary stories from your knowledgeable guide. Walk to the traditional food markets and sample different homemade or local products! Hear about Salzburg's spice trading history, sample much-loved snacks like cheese, sausages, bread, spices, beer, the original Mozartkugel and/or a Salzburg style coffee. This tour will be garnished with lots of fun stories and historical facts of Salzburg.
Meet your local guide at the famous Mozart square and start your food tour through Salzburg with a glass of wine/juice and freshly made chutney in a food store with Austrian specialties.

Next stop is in front of the Residence square, known for the biggest baroque fountain outside of Italy, and the Residence building. As demanding gourmets the Prince Archbishops of Salzburg spoiled their guests with special food and beverages combined with a pompous welcoming ceremony. But how did they prepare and present the food and where was the most important person's seat at the table?

Two famous Café houses are at the Old Market Square. Here you can taste the "original Mozartkugel", Salzburg's chocolate, invented in 1890 and still handmade at a local patisserie. Or find a candy shop that reminds you of your childhood. Don't hesitate to try some sweets from a friendly shop owner.

Continue the walk along the most famous shopping street "Getreidegasse". Have a picture stop at Mozart's Birthplace and continue to a small shop that offers different spices, oil and vinegar. Have a tasting of the "White Gold", the salt, and other different high quality products. Learn about the trading history of Salzburg and which vinegar and oil combination enriches the taste of your food.

At the farmers market you can try seasonal vegetables, fruits, the local organic cheese, some garlic/mustard or pumpkin seed sausages with a traditional rye bread or famous pretzel. This is a great opportunity to taste mountain spring water right from a fountain. Here it is easy to understand why Salzburger Land has the most active gourmet chefs and the highest density of organic farmers of Austria.

Your guide will show you more historical places like the Salzburg Festival Hall, St. Peter's district, the fortress Hohensalzburg and the Salzburger Dom. At every place there are fun stories and historical facts to listen to about some famous people like the Trapp Family, the musician J. Michael Haydn or Wolfgang Amadeus Mozart.

Finish the tour in a small local restaurant that offers a "Salzach sausage" made from their organic farmed wild pores or try the "dumpling secret", a variation of dumplings from different Salzburg regions. Don't forget to taste local beer or fruit juice
and watch the people on the street passing by.

After nearly three hours of sightseeing and snacking, you'll have sampled highlights from local products and seen the most famous sights that make Salzburg a place to visit more than once. Now enjoy the time to explore Salzburg on your own.
Please note: Farmers Markets, shops and Cafés visited may vary based on availability.