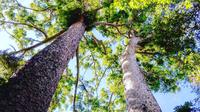 131 €
Rainforest and Waterfall Day Trip from Cairns Including Crater Lakes, Millaa Falls and Zilliee Falls
Enjoy this ancient World Heritage-Listed Tropical Rainforest and waterfall day-trip from Cairns. Experience and photograph a great range of native tropical fauna and flora in their natural environment, in one of the oldest tropical rainforests in the world. This all inclusive breathtaking small group day tour ensures you receive personalized experience throughout the day. Cool fresh mountain air, refreshing swims, soak up the cool mist from one of the many waterfalls you'll visit. You'll be left in awe at the timeless beauty this natural paradise has to offer.
Begin your day-trip travelling the scenic world heritage listed road up to Lake Barrine. This crater was formed when hot molten rock came into contact with groundwater. The build-up of steam blasted the central core from the volcano, and over time thi spectacular crater has filled with  rainwater. The best known botanical features of Lake Barrine are the twin Rough-Barked Kauri Pines. These 164-foot (50m) giants are estimated to be over 1,000 years old. These trees will be encountered upon our rainforest walk within the surrounding rainforest of the Crater. An award winning devonshire tea will be served in the tea-house overlooking the now peaceful lake.
 
Then visit one of the largest Strangler Fig Trees in the Tableland's rainforests, the Curtain Fig Tree. This tree has more than just history behind it's name, and is around 500 years old, a truly spectacular giant of the rainforest.

Your next destination is the North Johnstone Rive  and Malanda Falls. This waterfall was created by the last flow of lava from the Malanda Shield Volcano. There are two spectacular and educational 20-minute walks in the surrounding rainforest with the possibility of spotting a tree kangaroo, along with many interesting species of bird-life, and endemic rainforest species unique to the Mabi rainforest.

Next, head to the famous and most photographed waterfall in Australia. Millaa Millaa Falls. This is a great place for a quick swim on a hot day, with an invigorating massage from the cascade of mountain water. After a swim, make your way to Zilliee Falls. A short walk takes you through some rainforest to the viewing area at the top of the falls providing some creative photography opportunities.

Then visit a spectacular waterfall, Ellinjaa Falls, only a short walk through the rainforest. Steps have been cut into the path to make the descent safer and easier.

After all this walking and exploring it's time for a big homemade country lunch, catering for all tastes and dietary requirement's.

Travel to your highest point on tour over 3000-feet above sea level to a spectacular lookout that provides aerial views from the coast to the mountains. 

Your tour continues along the crater valley way offering some absolutely breathtaking scenery of rolling green pasture, huge valleys and mountain ridges to Mt Hypipamee National Park. Here you will be treated to more spectacular rainforest walks and some phenomenal natural landscapes including dinner falls, and a volcanic crater that will have you feeling a little dizzy as you take a look at the deep results of a single explosive event that occurred during the volcanic era. 

By now your camera batteries will be drained and you will be ready to absorb the fun stories and memories of the day, as you make your way back to your hotel in the late afternoon.