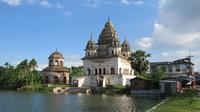 64 €
Private Tour: Rajshahi Day Tour of Bagha Mosque and Puthia Temple Complex
This is a private, full-day tour in Rajshahi to visit some of the most archaeological and historical destinations including the Bagha Mosque, the Puthia Temple Complex-Shiva Temple, the Jagannath Temple, the Dol Mandir, the Govinda Temple, the Royal Palace, the Bara Ahnik Mandir and the Natore Royal Palace.
Take a private full-day tour of Rajshahi to get to know the Bagha Mosque, the Puthia Temple Complex and its incredible history in more detail. This popular 10-hour tour includes transportation, a personal driver and an English-speaking guide throughout the day.

Following a hotel pick-up from Rajshahi at 8am, your first stop will be the Bagha Mosque. This is a great historical place in Bangladesh. It has a wonderful architectural style. The Bagha Mosque was built on the western bank of a fairly large tank within a brick-walled compound, 48.77 square meters. The inscription on top of the mosque states that the mosque was constructed by Sultan Nusrat Shah in 1932 A.D. Initially, its roof was over 10 domes but later those disintegrated. The mosque was constructed with brick and stone plinth. An earthquake in 1897 destroyed all the domes.
Next, you'll head to the Puthia Temple Complex. The Puthia Temple Complex has the largest number of historic temples in Bangladesh. The temples were built by Hindu Zamindars Rajas of the Puthia Raj family who were notable philanthropists of Rajshahi. The temples have been built in terracotta in a variety of styles combining the typical Jor-bangla architecture with other influences. The Rajbari or Palace of the Raja of Puthia and the Dol Mancha are part of the complex. The temples are laid out around a lake with a sprawling lawn. Here, you'll discover the authentic craftsmanship in the temples such as the Shiva Temple, the Jagannath Temple, the Dol Mandir, the Govinda Temple, the Royal Palace and the Bara Ahnik Mandir.
After lunch at a local restaurant, you will continue to the Natore Royal Palace, also known as the Natore Rajbari, a prominent royal palace in Natore. It was the residence and seat of the Rajshahi Raj family of zamindars. The famous Queen Rani Bhabani lived here and after the death of her husband expanded both the estate and the palace.
At approximately 6pm, you'll arrive back at your hotel in Rajshahi where your tour will end.