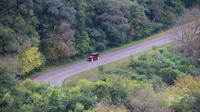 213 €
Private Tour: Calchaquies Valley by Vintage Car
Enjoy this exclusive discovery tour which includes sightseeing of mountain and valleys. The unique exploration of the Diaguitas and Calchaquies cultures are done through observations of hand cut stones, grasslands full of llamas, a local cheese tasting and other pieces of inheritance.
The departure of this excursion is from San Miguel de Tucumán, heading to the XVII century Jesuits ruins San José del Monte de los Indios Lule. Drive through sugar and blueberry plantations, until La Quebrada de los Sosa, made of tortuous roads.
Then, go through a jungle's lush vegetation, with its multiples crystal clear water courses draining from the highest mountains peaks. You will arrive near the village of Tafi del Valles, where the exuberant vegetation turns into a soft and natural mountain's meadow.
Here you will admire a magnificent view of the Angostura dyke, then visit Tafi del Valles, El Mollar's village, and its Menhirs, enigmatic cut stones which are over 2000 years of age. The old Banda Jesuit chapel from 1718 will reveal the secrets of the creation of the firsts Tafinistos cheeses, named after the village. Then it's back to San Miguel de Tucumán, where will drive through the principal garden, 9 de Julio.
Service features: Personalized excursion in a vintage convertible car: Ford A Phaeton from 1929. We will drive about 240 km, in 12 hours. The tour begins at 8 am and it's available all year long. Private and multilingual guide: English, French, Spanish. Additional booklet with further information about the ride. At noon, a basket of a delicate brunch made of local specialties and a local red wine will be consumed. Tea/Picnic service. Range of teas, served in the Argentinian tradition with some regional products. Cup of champagne at the end of the tour is also included. Exclusive certificate of participation to the excursion in a vintage car.