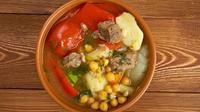 116 €
Private Tour: Azerbaijan Cuisine Cooking Class in Baku
Become a master of Azerbaijan's cuisine with a 4-hour cooking class in Baku. Perched on the crossroads of Asia, Europe and the Middle East, Azerbaijan's incredibly rich cuisine has been inspired by many nations, yet remains unique. Azeri cuisine consists of meat, rich cheese and pomegranate, the national emblem. Taste premium class Azerbaijani wines and have dinner with traditional delicious dishes. This tour is an excellent opportunity to spend your evening with fun and get acquainted with local traditions and culture.
Meet your expert culinary guide and begin your 4-hour experience with a visit to the local market where, with the help of your guide, you will select the high quality ingredients required for your lesson.

After buying fresh ingredients from the local market, head to a cooking lesson and receive hands-on instruction from an expert chef on how to prepare plov (Azeri-style pilaf), lyula kebab (lamb or mutton skewer served with lavash), qovurma (lamb stewed with onions and pomegranate) or saj ichi (meat and vegetables cooked in a cast-iron pot): the choice is yours.

The art of cooking in Azerbaijan is rooted in the depths of centuries. Azerbaijan cuisine belongs to one of the most interesting cuisines worldwide. It is well known among the Eastern cuisines, but some of the dishes are included in the menu of international cuisine. A lot of it is historically based, as appropriate, on the relevant national tastes and lifestyles.

The Azerbaijan cuisine has got its own originality and national color specified by cooking techniques, flavor and traditions by table parties. The Azerbaijan cuisine is one of the most extraordinary cuisines in respect of its tasty and healthy dishes distinguishing by their diversity. It constitutes the abundance of meat, fish and vegetables dishes seasoned by sweet scented greens and spices. There are no cooking recipes from the book, recipes are only transmitted from generation to generation.

After your class, sit down with your group and enjoy the wonderful food, cooked with your newly acquired cooking skills. At the end of your meal, receive a recipe card so that you can treat your friends and family to a Azerbaijan's feast back at home.