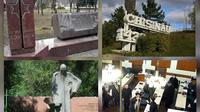 118 €
Private Jewish Heritage Chisinau Tour
If you look closely at the walls of old synagogues, often-nameless tombstones, you may hear notes of nostalgia for bygone world that was an essential part of our grandparents' lives; you can learn something unbelievably close, beckoning, and native. As we have heard and learned, when we went on the broken streets of Rashkov, Briceni or Zguritsa. We remembered the stories told by our parents about these towns, we have things that seemed so distant, fabulous and unprecedented when we were kids.

Holocaust Jewish Memorial
Jewish Cemetery
Chisinau Synagogue
Chisinau Jewish Pogrom 1903-1905 Memorial
Manger Jewish Library (The ability to search the information in the archive)
Jewish History Museum and Kishinev Jacobs Jewish Campus (KEDEM).
Chisinau was a real jewish city .19th Century was a  period when Jewish population in Moldova was about 225,637 peolple of a total of 1,936,392. Before the pogrom in 1903, the population of Chisinau was 46% Jewish. In Chisinau, the second massacre in the Jewish community took place on October 19th – 20th 1905, during this pogrom 19 Jews were killed and 56 were wounded. At this time, some Jews have organized vigilante groups to protect their community.30s were marked by a peak of Jewish life in Moldova. By 1935, 40 Jewish communities united into the Union of Jewish Communities of Bessarabia.The Second World War and Holocaust in Moldova German-Romanian troops occupied Moldavia territory at the end of July 1941. Many Jews though managed to evacuate.
As of 2014, there are an estimated 15,000 Jews in Moldova, and over 10,000 in Chișinău alone. At the same time, there are some 75,492 Moldovan Jews living in Israel.
However, antisemitism is still commonplace; several churches and political organisations still refer to anti-semitic rhetoric. In addition, far right and neo-Nazi groups are active in the country. Because religion was heavily restricted in Soviet times it is likely that there are many more people of ethnic Jewish heritage in Moldova than practice the religion, but many simply may not know about it.
Nowadays total Jewish population of Moldova  4,832 peolple.