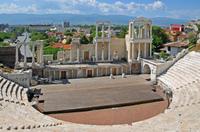 45 €
Plovdiv and Koprivshtitsa Day Trip from Sofia
Discover two of Bulgaria's most visited towns, Plovdiv and Koprivshtitsa, on this day trip from Sofia. With a professional driver-guide, travel from the Bulgarian capital to the historical city of Plovdiv. Explore the winding streets of the Plovdiv Old Town on a walking tour and marvel at the 19th-century architecture and Thracian, Roman, Byzantine and Bulgarian antiquities. Then, continue to Koprivshtitsa, once at the heart of the Bulgarian fight for liberation. After a walking tour, enjoy free time to explore independently before returning to Sofia. Entrance fees not included.
Start your day with a pickup from central Sofia in the early morning. Hop inside an air-conditioned minivan with your expert driver-guide, and then relax as you travel out of the Bulgarian capital to the city of Plovdiv, one of the oldest towns in the country and Bulgaria's second largest city.
On arrival, after around two hours, stretch your legs on a walking tour of the city's sights. With your guide leading the way, wander along Plovdiv's cobbled streets, lined with bohemian cafes and art galleries, and hear about the 7,000-year-old settlement's history and culture. Stroll amid the many house museums and historical monuments in Plovdiv's lovely Old Town, and learn how it has been restored to its mid-19th-century appearance. Snap photos of the Thracian, Roman, Byzantine and Bulgarian antiquities, and perhaps see the Plovdiv Regional Ethnographic Museum or wonder at the Roman amphitheater.
After touring Plovdiv, break for lunch at a local restaurant (own expense), and then return to your minivan and take in the scenic sights on route to Koprivshtitsa, a charming town with a fascinating history and beautiful 19th-century architecture. Enjoy a guided walking tour and learn how the tranquil town was the site of the Liberation of Bulgaria during the Russo-Turkish War, leading to its release from Ottoman rule. Then, choose to visit the homes of some of Koprivshtitsa's most-celebrated residents, from rebels to writers.
When the time comes, begin the journey back to Sofia, where your day trip concludes with a drop-off at Alexander Nevsky Cathedral.
Please note: If you take this tour between May and June, you'll enjoy an additional stop on the way to Plovdiv to see the picturesque rosa damascene (oil-yielding rose) fields.