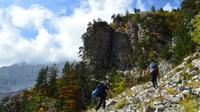 1 €
L'activité n'est pas disponible, essayez une autre recherche !
Peaks Of the Balkan 12-Day Tour
This is a wonderful trek across borders in this tour through the Balkans, the winner of the WTTC Tourism for Tomorrow Award 2013. This small group tour travels through places where you can admire the real grandeur of the mountains. During your journey you will have the opportunity to discover totally unknown lands preserving their natural beauty, the ancient culture and traditions of their inhabitants. This is a discovery, a challenge, a new breathtaking experience.
Day 1: ShkodraPick up at the airport and drive to Shkodra. Short city tour, dinner and accommodation in hotel.

Day 2: Cemi valley
Drive along the Cem valley following the winding road, up to Selca. Hike up to Sllapi waterfall and after the lunch, drive to Lëpushë. Accommodation in guesthouse. (Wt 3 h, Ascent/Descent 450 m).

Day 3: Trojani peak
Hike to Trojani Pass and from there on a steeper path up to the peak. The descent trail runs southwards, up to the guesthouse. (Wt 6 hours, A/D 1000 m)

Day 4: Ropojana Valley
Drive to Vermosh and from there to the village Vusanje, where the hike starts. We follow the Ropojana Valley in the direction of Buni i Jezercës where lie six glacial lakes. Accommodation in tents (Wt 8 hours, A/D 900/100 m)

Day 5: Arapi mountain and Theth
Hike in the southwestern direction to Jezerca Pass - the field of Runica, up to the Peçakeqi glacial lake. Near Peja Pass, we turn sharply right and hike on a steeper trail up to the peak of Arapi. Ascent to Peja Pass, and from there to Thethi. Accommodation in a guesthouse. (Wt 9 hours, A/D 500/1360 m)

Day 6: Theth
Visit of the village and walk to the 30 meters high Grunas canyon. Then walk along the river up to the "Blue Eye of Kapre", a natural pool with amazingly blue water. On the way back, we will visit the mill. (Wt 6 hours, A/D 480 m)

Day 7: Valbona Pass
Ascent up to Valbona Pass at1812m and from there descent towards Valbonë. Accommodation in guest house. (Wt 6 hours, A/D 1070/800 m)

Day 8: Hike to the meadow of "Bregu i Rrethit"
In the afternoon opportunity to participate in the traditional manufacturing of cheese, the preparation of the local food, etc. (Walking time 4 hours, A/D 620 m)

Day 9: Hike to Dobërdol
Transfer to Çerem and from there, hike up to the Gashi Valley. Then we follow the ascending path up to the Dobërdol plateau with its glacial lakes. Overnight stay in tents. (Wt 7 hours, A/D 1025/440 m)

Day 10: Gjeravica
Hike through the meadows of Dobërdol and then on the ridge up to the Gjeravica Mountain. Descend to the village where the vehicles will be waiting to drive us to Gjakova. (Wt 9 hours, A/D 1100/1230 m)

Day 11: Decani Monastery and Prizren
Drive to Deçani and visit of the monastery, a UNESCO World Heritage. From there drive to Prizren and visit of the city. Afterwards, have lunch in a traditional restaurant, and return to Tirana.

Day 12: Tirana
Visit of the "Mosaic of Tirana", Et'hem Bey Mosque, Skanderbeg monument and National Historical Museum. A la carte dinner at a traditional restaurant.

Day 13: Transfer to airport