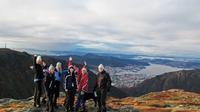 98 €
L'activité n'est pas disponible, essayez une autre recherche !
Panoramic Hike Across Vidden: From Ulriken to Floyen
The most popular self-guided half-day hiking trip in Bergen with panoramic views. Included is a ticket to Fløibanen Funicular and Ulriken cable cars.
Self-guided hiking trip:
The city mountain hike "Vidden" from Mt. Ulriken to Mt. Fløyen will give you an exciting cultural history as well as beautiful and wild highland nature and scenic views. Vidden is the highest level of Bergen's 7 city mountains and offers cultural history and the best view of the area. After taking the bus from the city center, you take Ulriken cable car up to Mt. Ulriken (643 MASL). At the top, you can enjoy the view over the city before you start the hike over Vidden. We have estimated the hike to be around 4-6 hours, and end up at Mt. Fløyen (320 MASL). From here, you take the Fløyen funicular down to the city center.

Route info:
The terrain is easy, but uneven, and can also be a bit muddy. All hiking will be on a mountain path and not mountain road. The weather can change rapidly, and the climate is different from the city. The route is 13 km and takes approx. 4-6 hours, depending on your pace. This is a self-guided tour, which means that you will be provided with an app, which will guide you throughout the hike. You will also be provided with written information about the places you visit.

Included: Transport from the city center, up Mt. Ulriken (cable car), and down Mt. Fløyen (funicular). App with all necessary coordinates and route, tour information about the places along the route. Lunch package at mt. Ulriken and soup at arrival at mt. Fløyen.

Not included:
Rentals of equipment such as mountain shoes, windproof jacket and hiking poles and guides.


Practical information: Equipment and tickets will be provided at Bergen Base Camp in the city center, at Bryggen. Be sure to have enough water in your backpack, it is possible to fill your bottle at both Mt. Ulriken and Mt. Fløyen. We recommend using hiking shoes, warm and windproof clothing, a backpack with extra clothing, camera and sunglasses.
Recommended time table:
  9.30: Meet at Bergen Base Camp for equipment and information
10:00: Ulriken bus from the city center
10:30: Latest arrival at Ulriken
10:45: Start the hike at Vidden
 1:30: Eat lunch package
 4:30: Arrival at Mt. Fløyen
 4:45: The Fløyen funicular down the mountain approx.
 5:00: Back at Bergen Base Camp
This is a recommended timetable, where we estimate you to use 6 hours on the hiking trip. However, you can start the hike at a later time, but be aware that the Fløyen funicular closes after 11 pm.