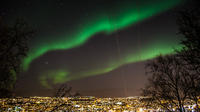 109 €
Northern Lights Tour in Tromso - Aurora Borealis
Join this guided Northern Lights tour above the Arctic Circle. Starting in the "Paris of the North", Tromsø, you will be taken to beautiful places in the countryside. Where that will be exactly, depends on the weather forecast. One thing is for sure; you will soon find yourself in a Winter Wonderland, surrounded by impressive mountains covered under a thick blanket of snow, idyllic fjords and frozen lakes. Stops during this tour will be at places where you can safely take pictures of a mesmerizing natural phenomenon: the Aurora Borealis (Northern Lights). Dependent on auroral activity and clear skies, every appearance of the northern lights is special and unique. You simply have to experience the exceptional beauty and wonder of the northern lights yourself.
The area of the Arctic city of Tromsø is without a doubt one of the best places in the world to spot Nature's greatest light show, the spectacular Aurora Borealis.
Several ingredients are crucial in order to see the best Northern Lights: the least possible amount of city lights, cold temperatures and last but not least, a clear sky. Therefore we will drive out of town to beautiful places in the coutryside with impressive mountains and idyllic lakes or fjords, where we can safely take pictures of the dancing Aurora Borealis. Where that will be, always depends on the weather forecast. Both our driver and our guide are always up to date about the latest developments.
On the road our guide will not only share several interesting, local stories with you, but also tell you everything you always wanted to know about the amazing Northern Lights. You will get some useful tips about how to spot them as well as help with setting up your camera. This way you can make some amazing pictures of this natural must-see phenomenon by yourself too!
Chasing the Northern Lights is simply an adventure you don't want to miss out on!
Attention points:
Tour duration; approx. 6 hours
Level of difficulty; level 1, easy, suited for everybody
Since the nights above the Arctic Circle during winter can get cold, warm clothing and appropriate shoes are highly recommended