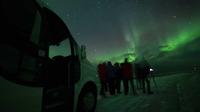 159 €
Northern lights search from Svolvær including photo guide
Exciting northern lights search including minibus transport and photo guide. Maximum number of guests will be 15 people. On this trip we will head for areas with low light pollution and best chance to see the northern lights. Duration is 3-4 hours, depending on the northern lights conditions. 
Before each tour we study the weather forecast, which helps us to decide the best places for observing the northern lights. We may be heading west or east, but most important is to find a spot with clear view towards the north.
This trip runs from Svolvær harbour terminal every evening at 21:00 (9 p.m.) in the season. Pick-up service is available, please choose the meeting point when you book the trip.
Warm clothing, boots, hat and mittens are necessary on this trip as we will stay outside for a longer period at a time. Also bring your camera equipment, and remember extra memory card and batteries. Tips and advice regarding photography will be given by our photo guide. We have a few tripods to lend out free of charge.
As the northern lights are a natural phenomenon, please remember that sightings can never be guaranteed. If the northern lights does not show on your trip, please contact us and we will book you on our next available northern lights trip, free of charge.
Short about the northern lights: Electrically charged particles are catapulted off the surface of the sun in the aftermath of powerful solar storms. Some of these particles travel towards Earth. When they reach our planet, they are conducted along the protective magnetic fields towards the magnetic north and south poles. In a ring-shaped pattern around the magnetic poles, the particles encounter the upper layers of the atmosphere. In a process identical to the one that occurs inside a fluorescent light, energy is released as light that we can observe from the earth. Most northern lights-displays take place at a height of around 100 km above the earth's surface. Often we see three green bands across the night sky. Or the lights come as flickering curtains or rolling smoke. The colour is a luminous green, often with a hint of pink along the edge, and occasionally with a deep violet centre. The northern lights belt stretches along the coast of Northern Norway from Lofoten to the North Cape. This means that Northern Norway is the perfect place to observe this natural phenomenon. In fact, the northern lights are more commonly seen here than anywhere else in the world.