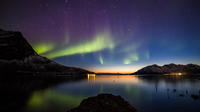 122 €
L'activité n'est pas disponible, essayez une autre recherche !
Northern Lights Safari from Tromso
Chase the Northern Lights and experience the beauty of the north in Tromsø with personal service, good food and lots of fun. You will look fabulous with the provided thermal suits and you will not forget this night with the lady AURORA dancing above you. Photos will be taken and sent to you to remind you about this unforgettable night..Looking forward to seeing you!
The Wonders of Northern Norway - an unforgettable experience for almost every age
The magical Northern Lights have for generations filled many people with enthusiasm.
In Tromsø, on 69th degrees of northern latitude, we have very good conditions for "chasing" the Northern Lights.
Even though we have a very good knowledge of the surroundings, we cannot assure you a successful chase, no one can.
However, we will do our best in order to give you an unforgettable experience.
You will be picked up by a minibus (the maximum number of passengers allowed is 14) at the Tourist Office and from there you will be driven in Norway's wide-open landscape, sometimes further away from Tromsø and sometimes not – depending on the weather conditions. We never know when or where the Northern Lights are likely to be seen or how intense their activity will be. Thus it is important to reach those places where the vastness of the spaces and the darkness will give us the highest chance to see them, even they are not that strong.
On the way your guide will provide you with information about the area and the Northern Lights.
As a matter of fact, even though along the coast it is not that cold, it can get cold while staying for a longer time in the open space. Therefore we always recommend you to use our thermal suits.
In order to take pictures from the Northern Lights we recommend a lens reflex camera and a tripod. We can assist you in setting your camera when needed and provide you tripods without additional charge.