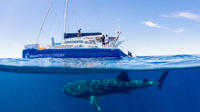 200 €
L'activité n'est pas disponible, essayez une autre recherche !
Ningaloo Whale Shark Swim and Sailing Discovery Tour from Exmouth
On Ningaloo Discovery's Whale Shark Swim and Sail Discovery tours you can snorkel and swim with whale sharks, see manta rays, encounter dugongs, turtles, humpback whales, dolphins, amazing colorful tropical fish and coral in the Ningaloo Reef just off Exmouth.
The air-conditioned bus will collect you straight from your doorstep where you'll be greeted by our fantastic crew members and welcomed on your journey of a lifetime! Listen in or chill out during the drive down the coast as we'll be telling you all about what your about to experience and sharing some fabulous facts about the local area.
Get ready to board our super stable, fast and comfortable 55ft sailing catamaran WINDCHEETAH. Being a large catamaran she is extremely stable and so a very good choice for those slightly prone to motion sickness, with several different areas for viewing wildlife, entering the water and generally just hanging out WINDCHEETAH is guaranteed to be one of the highlights of your day ( not to take away from the star of the show….The Whale Shark!) Meet the rest of your crew for the day and set off in comfort. We'll take exceptional care of you, fit you for your fins, masks and wetsuits and ensure everybody is 100% at ease, feeling confident and excited!
Warm up by dropping into one of the most beautiful reefs in the world at our first snorkel site and discover an abundance of coral, tropical fish, and turtles. All of our crew-members have a passion for the ocean – many even have marine science backgrounds. Our guides will be right there with you in the water to steer you in the right direction, and to pay special attention to any modest swimmers. Feel free to grab one of our floating noodles should you feel like the extra bit of flotation.
While your busy exploring the reef, the spotter plane has already departed and is searching for our first Whale Shark cruising nearby.
When a Whale Shark has been spotted, it's all systems go! There's a buzz in the air, the excitement and anticipation grows before you prepare for your jump into the crystal clear waters of the Ningaloo…
You and your guide drop in and get up close and personal to the worlds biggest fish, this is your chance to experience wonder and marvel at the sheer size, grace and elegance. Most of these sharks are between 4 and 12 metres long but have been know to grow as large as 18 metres!
Our professional on board photographer is all the while capturing every moment in the water for you to take home at no extra cost.
It's hungry work, don't we know it! We've already got lunch on the way as we sail back in to look for Manta Rays, Dugongs and even Humpback Whales (when in season). You'll get yet another chance to go snorkelling, make use of our Kayaks and Paddle Boards or recline in our famous cargo net for a refreshing tow through the crystal clear waters of the lagoon as we sail back.
To celebrate a truely magnificent day, kick back and enjoy with a glass of sparkling and a seasonal fruit platter while we set the sails and make our way back to the mainland. When you are returned to your accommodation you'll wonder why you didn't do it all sooner!