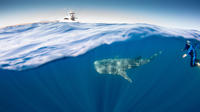 377 €
Ningaloo Reef Whale Shark Snorkeling Tour from Exmouth
Experience the beauty of the Ningaloo Reef and have a chance to swim with whale sharks and see other wildlife. On this full-day snorkeling tour, you will be equipped with all the snorkeling gear required and an expert crew will be with you in the water, guiding you during your swim. Tours take place in a small-group of up to 10 guests to allow for the best interactions and include pickup and drop-off from Exmouth township hotels.
The Whale Shark season in Ningaloo runs from April through July each year. Begin the tour with pickup from your Exmouth township accommodation. Board your boat and depart from Tantabiddi Boat Ramp at 8:45am.
Once on board, you will be kitted out with a wetsuit and snorkel gear. A spotter plane will already be in the air, searching for whale sharks as they feed. Enjoy a light morning tea, lunch and snacks throughout the day included in the cost of your tour (options are available for many dietary requirements e.g. vegetarian, vegan, and lactose-free). There may be time to snorkel at different sites along the Reef. Throughout the day, the crew will be searching for turtles, rays, dolphins, dugongs and sea birds.
Field work, contributing to vital scientific research programs in the World Heritage-listed Ningaloo Marine Park, is conducted on each cruise. You can get involved with data collection and there will be presentations regarding biology and habitat of the Whale Sharks and other marine life.
The whale shark will be continually moving so swimming is required during the interaction; you will need to be a confident swimmer, able to snorkel and able to swim freestyle. Whale sharks are found in the open ocean so you may be swimming in current and swell.
Government regulations allow a maximum of 60 minutes swimming with one shark. The duration of each swim is completely determined by the whale shark. If the whale shark 'dives', the spotter plane will search for another shark. A maximum of 10 people can be in the water with a whale shark at a time.
You may be lucky enough to swim with more than one whale shark during the course of the day, however, you should set your own pace and may choose not to swim each time. If you are not comfortable doing the swim you can participate as an 'observer'. Parents are responsible for their children at all times both on the boat and in the water. Children can participate as an 'observer' however one parent must accompany the children onboard the boat at all times.

This is considered a full-day excursion. Your final end time will be determined by the whale sharks and where they are located on the day of the tour. Your approximate return time to Tantabiddi boat ramp will be between 3:30-4:30pm. You will be transported back to your accommodation in Exmouth township at the conclusion of the experience.