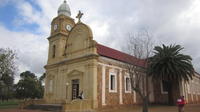 121 €
L'activité n'est pas disponible, essayez une autre recherche !
New Norcia Day Trip from Perth
See Western Australia's unique country side, its natural beauty and historical gems on this fascinating full-day tour from Perth. In a small traveling group, drive through the scenic Swan Valley before stopping at Bindoon for morning tea. Leaving Bindoon, move on to the historic town of New Norcia for sightseeing and lunch. After lunch, travel to the very popular chocolate factory, before returning at 5:30pm to your hotel.
Departing your hotel at 9am, travel through the historic settlement of Guildford. Guildford was one of three towns established during the founding of the Swan River Colony in 1829. Perth was the administration centre, Fremantle the port and Guildford the market town. Today Guildford is one of only two towns in Perth on the National Trust register and many fine colonial buildings from the township's earliest days continue to grace the streets. 
Drive North on Great Northern Highway through the Swan Valley. The Swan Valley is famous for its many wine producers, including Houghton's and Sandalford. Turn onto Great Northern Highway where the road and landscape opens up and find yourself traveling in the outskirts of Perth. 
In an hour or so, stop at Bindoon for morning tea and coffee. There is a whole range of fresh cakes and rolls to tempt your pallet. You will be pleasantly surprised. Leaving Bindoon, continue onto the main destination of New Norcia. New Norcia was established in 1847 as a mission for the local Aboriginal people by Spanish Benedictine monk Bishop Rosendo Salvado. Whilst in historical New Norcia, you can visit the Abbey Church which was built in 1850 and still stands today, or take a leisurely walk to the river.
At your own pace, you should explore the three floors of the Museum and Art Gallery (New Norcia's star attraction). It is truly fascinating. Admission to the Museum and Art Gallery is included. You can also sample a variety of wines, liqueurs and ports available for purchase at the information centre. Lunch may be purchased at the New Norcia Hotel. A variety of reasonably priced meals are available, including barramundi fillet, wagyu beef and vegetarian pizza. 
Leaving New Norcia, travel to the very popular chocolate factory, before returning at 5:30pm to your hotel.