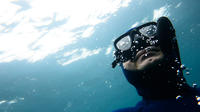 64 €
L'activité n'est pas disponible, essayez une autre recherche !
Mornington Peninsula Discover The Bay Charter Boat Snorkel Tour
Spend an exciting couple of hours on the vast Port Phillip Bay, freediving by boat along the Mornington Peninsula. Swim with wildlife including Australian Fur Seals and fish species found only in temperate waters like Boarfish and Weedy Seadragons. 
The Bay here is beautiful with sandy beaches and exposed coastal cliffs. The water is generally cleaner and clearer and in summer months reaches temperatures up to 21 degrees.
An excursion from Sorrento is the best way to experience the thriving reefs, both natural and artificial, that give protection to fish, seadragons, stingrays, cuttlefish and crabs. The playfulness of the seals is always a highlight. Above water on the haul-out platform, you'll see them jostling for position and hear them vocalising, which helps them identify both neighbours and strangers. Snorkelling and freediving alongside the seals, you'll delight in their inquisitive and friendly manner in the water as they swim around.
Make your way to Sorrento on the Mornington Peninsula to meet your local guide and your rigid inflatable boat (RIB). Sorrento is around a 1.5hr drive from Melbourne. Meeting at the Sorrento Boat Ramp Jetty at least 15 minutes before departure (allow more time in summer), you'll be greeted by your Guide and introduced to fellow guests.
Slip into your wetsuit and listen to a short briefing on what to expect during the 2-hour boat excursion. Hop in to the boat and take your seat; it may be a lively ride. 
On the day, the best site will be chosen based on the tides and conditions for maximum freediving enjoyment. Depending on the needs of the group, the journey may include a second pause at another significant location, chosen for it's optimal experience.
The sites may include South Channel Fort, Banksia Reef to look for Longsnout Boarfish, Rye Pier site of the Eivion wreck, former lime trader, (lost c1918), Pope's Eye Marine Park or secluded Point Nepean Bay (descriptions below). After 2 hours on and in the bay, your tour ends back at its starting point at Sorrento.
 Session Length
• Excursions operate October - April each year
• Excursions are 2 hours in duration
• Book at least 1 week in advance of your preferred date
• Please arrive 30 minutes early as departure times cannot be delayed.
Numbers on the day
• Max 6 certified freedivers
Weather
• In the event of rain or inclement weather your experience will still go ahead unless contacted by the experience provider
• If your experience is cancelled you will be rescheduled by the provider
Dress Code
• You will need to bring your wetsuit, swimmers and a towel
• Wetsuits minimum 3.5mm with hood, gloves and booties (Summer)
• Thicker wetsuits (5mm) are recommended in Spring/Autumn
• Rental wetsuits (two-piece 5mm with hoods) are available if you do not have your own. *These must be requested at time of booking
• Wetsuits must be put on before boarding the vessel
What to Bring
• Only a very small bag, waterproof is better 
• Re-useable water bottle
• Towel
• Camera / Go Pro
• Sun Hat or Beanie
• Sunglasses
• Wind / Spray Jacket
Other Info
• Not suitable for snorkelling
• Certified Freedivers may use weightbelts
• Items such as knives, spearguns are not allowed