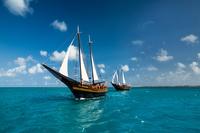 52 €
Morning Pirate Sail and Snorkel Cruise in Aruba
Sail, snorkel, swim and swing in Aruba aboard an impressive 85-foot teak Schooner.  Snorkel and Swim at three sites: You will have the opportunity to visit two shallow swimming and snorkel sites teeming with oodles of species of colorful, tropical fish at Malmok Reefs and Boca Catalina.  At the third site, you will view the famous WWII shipwreck, Antilla resting on her port side in only 60 feet of water. For your comfort find ample shade and seating under the large canopy by the open bar or stretch out on the teak decks for sunning. This tour includes a tasty BBQ lunch, open bar, full-set snorkeling gear and lots of fun with the ship's rope swing! You will learn why this is one of the most requested tours of all the Aruba excursions!
Sail, Swim and Snorkel at 3 great sites: Malmok, Boca Catalina and the WWII shipwreck, Antilla! You will also enjoy a BBQ lunch, open bar, snorkeling gear & a rope swing! Lunch includes Chicken, Ribs, Potato Salad, Caribbean Rice, Plantain, Fresh Fruit Slice and Rolls. Relax in the sun, party with the crew or take cover in the shaded awning. Don't forget to try the exciting rope swing!

Malmok Snorkeling Site
Snorkeling Aruba's most shallow snorkel areas remarkably close to shoreline with interesting sea critters abound. And from the moment you enter the calm waters, you will swim Aruba´s turquoise paradise, equipped with mask, snorkel and fin, and feel almost a part of a different world. The residents of the tranquil, turquoise imbued world will curiously greet you.

Boca Catalina Snorkeling Site
Snorkelers have much to discover when taking a swim in Aruba's Boca Catalina, a beginner snorkeler's dream. Aruba and its snorkeling waters are shallow and protected coves offer clear visibility and calm, azure waters with comfortable depths for both advanced and beginner snorkelers alike. Here you will have the opportunity to swim in Aruba beside schools of yellow striped grunts and the colorful Sergeant, angel fish, bright green parrot fish, groupers as well as elk coral, brain coral and barrel sponges.

Shipwreck Antilla Snorkeling Site
Rich in History, the island's greatest Aruba snorkeling site consistently garners international recognition as the Caribbean's finest wreck dive. Sunk by its own Captain and Crew at the start of WWII- thus preventing it from falling into enemy hands—this 400 foot German Freighter significantly sits on the ocean floor in 60 feet of water in such a way that a portion of its hull and masts protrude impressively up and out of the sea. Snorkel Aruba waters to get close to this ship in the crystal clear quality of Aruba's waters makes it a dream site for both divers and snorkelers. Under the watchful eyes of the expert crew, snorkeling close up to Aruba's special ship, you will view the extraordinary coral -encrusted wreck, populated by awesome marine life which after so many years still calls the Antilla WWII Shipwreck its home.