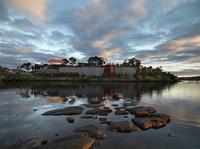 101 €
Moorilla Estate Winery Tour Including Wine Tasting, Lunch and Mona Admission
Experience a wine tasting, lunch and museum like no other on a day trip to the sensational Moorilla Estate. After an entertaining ferry ride, start by perusing the world-class art collection at the Museum of Old and New Art (Mona), housed in an architecturally stunning labyrinth below ground. Then enjoy a delicious seasonal lunch, followed by a behind-the-scenes tour and tasting at Moorilla Winery. Don't miss the chance to discover for yourself why the six-acre estate has landed on best of lists since opening in 2011.
Mona, the Museum of Old and New Art, is Australia's largest privately owned gallery and museum. Showcasing the diverse collection of its owner, Tasmanian gambler David Walsh, the collection ranges from ancient Egyptian funerary objects to modernist masterpieces and international contemporary art. Since opening in 2011, visitors have been drawn to Mona's picturesque site on the banks of the River Derwent, which also features luxury accommodation, a restaurant, vineyard and winery – amongst other things.
Begin your self-guided day by taking Mona's MR-1 Fast Ferry from Hobart's Brooke Street Pier to Mona at 9:30am to ensure maximum time to explore the museum and grounds. Late rises or art novices may choose to spend less time on their visit and depart instead at 11am. Entry to the museum is included in your tour, giving you free reign to explore its permanent collection and an array of blockbuster exhibitions.
After your art fix, wander up to the Source Restaurant for lunch, named after the artwork by John Olsen, that's exhibited in the ceiling of the staircase. Enjoy any main meal, paired with a glass of wine from Moorilla's Muse or Praxis Series and sweeping views of the vineyard, Derwent river and Mount Wellington.
The behind-the-scenes winery tour and wine tasting starts in the vineyard (the second oldest in Tasmania). Follow the trail of grapes as they are handpicked, crushed, pressed, fermented and matured. Witness how new and old artisan winemaking techniques are used to craft fragrant, elegant and classical wines. Your host will provide an overview of the history of the region and winery, as well as information on the winemaking process and the ten different grape varieties grown on site. The tasting features ten different wines including a selection from Moorilla's prestigious Cloth Label Series.
End your day by taking Mona's MR-1 Fast Ferry from Mona to Hobart's Brooke Street Pier at 5.