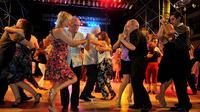 116 €
Milonga Tour in Buenos Aires
Enjoy a complimentary hotel pickup and a visit to two Milongas that are located in the neighborhoods of San Telmo and Palermo in Buenos Aires. The first Milonga is "bohemian" and usually has a live orchestra. Here you will take a class to learn the Tango, and spend time practicing before heading to the second location. The second Milonga contrasts with the first because it is a more formal one that sticks to the roots of Tango. The show here is run by professional dancers who dance a demonstration that lasts about 3 tangos (about 10-15 minutes). You will be able to dance here too. Both Milongas have guaranteed tables reserved especially for you.
After your complimentary hotel pickup, head to a pre-Milonga group Tango class. Your first "bohemian" style Milonga is where mostly young people go to dance. You will enjoy mixing with these people who usually attend the regular classes given by the local teachers. These classes are always dictated in both English and Spanish and groups are usually quite numerous depending on the time of year.

During this class, you will learn the basic Tango steps that will allow you to dance at the two Milongas you will be visiting during the night. This class lasts approximately 1 hour. A second hour is spent here to enjoy the live orchestra and put into practice the steps learned.
When you are finished here, travel 20 minutes to the next Milonga while absorbing information about the history of Tango including its origins and secrets from your guide. The second Milonga is a more formal setting where the "codes" (rules dating back to the beginnings of Tango) are more prominent. Here you will spend about an hour and a half enjoying the dance show and continuing to dance while observing the differences between the two Milongas and start to feel at home with the local Tango dancers.
Although the food and drinks are not included in the tour, both the first and second Milongas sell local drinks and local food, like empanadas and pizza.