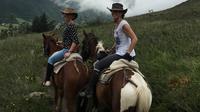 128 €
Middle of the World and Pululahua Horseback-Riding Tour
This day tour combines a visit to the educational and interactive Intinan museum with the huge and magnificent Pululahua Crater. The Intinan museum was built on the equator line or Mitad del Mundo in Spanish, this is a very exotic and country style place, its environment and activities will take your expectations to the next level.

After visiting the Mitad del Mundo, head for the Pululahua Crater. During your jeep ride, enjoy stops for pictures. Pululahua is an ancient volcano that with its last eruption (approx. 2500 years ago) left a gorgeous and fertile soil. This is one of the few calderas in the world in which its inhabitants do farming. Due to the fantastic landscape, the horseback riding activity will complement your tour fully. Please note, this is a shared tour.
In the morning we start driving north to the ranch. Once we arrive, we begin the ride with robust and amicable Andean horses they will take us through stunning landscape, this crater is the biggest one on the whole American continent and one of only two inhabited craters in the world.

While continuing the ride you will discover that the landscape is constantly changing with huge biodiversity. When circling the central lava cone, we'll witness volcanic history, interesting geological formations, mineral avalanches blooming with wild orchids and traditional Andean agriculture. The horseback riding length will be approximately 4 hours.

Afterwards we continue by car to the "Mitad del Mundo". On an interactive guided tour the "Intinan" people will tell you about the history and customs of the tribes in the area and with some help of a few interesting and fun tests you will find out that this place is exactly the middle of the world. After this interesting visit we'll return to Quito.

Itinerary
09:00 Pick-up at hotel in Quito and start driving to the ranch
10:30 Horseback ride through Pululahua Crater
14:30 Lunch 
15:30 Visit to the "Mitad del Mundo" ("Intinan" museum)
18:00 Arrival at your hotel in Quito

Note: All hours are approximate, except for the starting time.