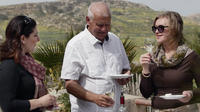 250 €
L'activité n'est pas disponible, essayez une autre recherche !
Malta Private Food and Wine Tour with Visit of Local Farm
Explore rural Malta, meet the locals and enjoy freshly sourced delicacies during this 'half day' private tour off the beaten path. A local guide will highlight unique sight-seeing locations with fascinating historical, cultural and ecological importance. You will get to experience village cores and most importantly visit places which are not accessible to the regular tourist... or even locals! The ethos of these eco-tours is to support the local rural community and the Maltese environment, therefore each activity is built around genuine farmers and artisans.
You will meet the local guide at a location and time of your choice. Each tour is different, depending on what you'd like to experience and which season you are visiting, so the first 10 minutes are spent going through the itinerary for the day. This is a completely private tour for you and your guests, therefore the itinerary may be completely customised to your wishes. Distances in Malta are very short, and if planned well, you will enjoy a number of locations within a short period of time.

Among other locations, the main villages visited are Rabat, Mgarr and the outskirts of Mellieha. These are all rural places where agriculture is still predominant. While hopping from one village to the next, buy local products direct from the different farmers, and get a glimpse into their everyday life.

All the while, scenic routes are chosen, so that you get to experience the best out of this rural setting. Malta is full of breath-taking view points - from this North-Western region you can also enjoy views of the sister island - Gozo.

At one point, you will be hosted on a privately-owned farm. This visit would be exclusive for your small group, and here you will savor the fresh products sourced during the day from the farmers network. The light non-cooked lunch, will be similar to a typical farmer's snack, and includes traditional bread, tomato paste, extra virgin olive oil, olives and other condiments, together with local estate wine. 

At the end of the experience, the guide will accompany you back to your accommodation or to a pre-established drop-off point.