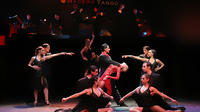 30 €
Madero Tango Show with Optional Dinner in Buenos Aires
Enjoy an evening out and watch a tango show from one the most spectacular windows in the city which blends the river that brought the immigrants who would give birth to tango, with the most modern buildings of Argentina. This means tango is alive. To enjoy the experience of Madero Tango is to really get to know where tango lives. This musical genre recently declared a human heritage is much more than the memory of its golden decades. Today, tango moves your nerve, ignites your passion, woos you. It is definitely alive and it is the real and vivid story of every day life. Madero Tango is the only place of its kind where the present and the past merge to create a bond between the audience and tango that is never forgotten.
After hotel pickup, you will head to Puerto Madero neighborhood, the most modern place in Buenos Aires, to arrive at a beautiful building where Madero Tango takes place. If you've opted for dinner option, you will start your night enjoying a dinner in which you can choose between an international menu and the most typical Argentine dishes and wineries. If you've chosen the show-only option, slip into your seat in time for the performance, and enjoy provided wine or soft drinks. The show is composed of more than 20 excellent artists on stage and a live orchestra formed by six upper level musicians. It presents a story in which the present and the past merge creating a bond between the audience and tango that is never forgotten.The show lasts for about 1 hour, 40 minutes, and then you'll be transferred back to your hotel.

Show Only:
This service has a good view of the show. It does not include meals or drinks. Yet, customers will be able to order any dish from the menu and pay for the consumption.

Dinner Show: Platea

Entrees:

Salad of Tomatoes, Radicheta and Parmesan Cheese
Cheese Pumpkin Cream Soup with Focaccia Bread
Main Courses:
Argentine Beef with Herb Buttered Roasted Potatoes
Chicken breast stuffed with Ham, Fine Herbs and assortment of Cheese, with Vegetable Risotto and Mango and Pear Chutney
Penne Rigatte with Arrabbiata Sauce and Parmesan Cheese
Desserts:
Season Fruit Pintxos with Chocolate Glace
Dulce de Leche Cheesecake
Dinner Show: Premium. Includes a welcome drink, photograph in a portrait, the DVD of the show and the possibility of a tango lesson.
Entrees:
Salad of Tomatoes, Radicheta and Parmesan Cheese
Meat and Potato-filled individual Pie in Tomato Regional Sauce
Seafood assortment with Avocado and Cherry Tomatoes
Cheese Pumpkin Cream Soup with Focaccia Bread
Grilled Chicken, Vegetable Garden Leaves and Country Bread Crouton
Main Courses:
Argentine Beef with Herb Buttered Roasted Potatoes
Chicken breast stuffed with Ham, Fine Herbs and assortment of Cheese, with Vegetable Risotto and Mango and Pear Chutney
Pork Ribs with BBQ Sauce and Crunchy Potatoes
Slices of Angus Tenderloin with Caramelized Apple
Grilled Patagonian Salmon on a Bed of Red Onions, Garden Greens and Pepper Cream Sauce
Grilled Littoral hake with Mashed Potatoes and Pumpkins
Desserts:
Tiramisu, Triplex of Vanilla, Coffee and Mascarpone
Season Fruit Pintxos with Chocolate Glace
Dulce de Leche Cheesecake
Tasting of Popular Desserts