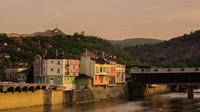 36 €
Lovech and Krushunski Waterfalls Full-Day Tour from Sofia
Tour of Lovech – one of the oldest settled places in Bulgaria and highlight from the Bulgarian Revival Period; Krushuski Waterfalls- one of the most attractive landmarks of the country.
After hotel pickup in Sofia, set off on your full-day tour by traveling northeastward into rural Bulgaria to Lovech, he site of one of the country's oldest settlements.

In and around the 12th century, Lovech was a strategically important military stronghold, set on the right bank of the River Osam where its oldest quarter, Varosha, stands now. During the 13th and the 14th centuries, it grew to become one of the biggest towns and fortresses in northern Bulgaria, and boasted the economic prosperity to match.

Later, when the country fell to the Ottoman Empire, Lovech became a center for the Bulgarian national liberation movement. So much so, that Bulgarian national hero Vassil Levski established his headquarters here, cementing the town's status as the country's revolutionary capital.

Nowadays, Lovech has established itself as fascinating cultural and tourism center, attracting visitors who come to admire its monuments, distinctive architecture, and uniquely beautiful natural surroundings.

On arrival, admire Varosha's stone-and-wooden Bulgarian National Revival architecture, and visit the the Lovech Ethnographical Museum. Head inside its two mid-19th-century buildings to explore the exhibits on traditional Bulgarian life, customs, and furniture, and the cellar displays of wine making equipment.

Next, set out to see Hisar Fortress, perched on a steep hill overlooking Lovech, and one of Bulgaria's few remaining Ottoman citadels. Take in the extensive ruins of mortar and crushed limestone walls that date from the 8th to the 10th centuries and that lie sprawled across the 12,916 square foot (1,200 square meter) site.

Stop, too, to admire another of Lovech's highlights — the Covered Bridge — the only one of its kind in Bulgaria. Constructed on stone foundations, this splendid dark-wood bridge was built by renowned Bulgarian architect Kolyu Ficheto between 1874 and 1876, and is lined with craft and art shops.

After exploring here, continue to the Krushunski Waterfalls, one of Bulgaria's most beautiful natural landmarks and located just 22 miles (35 kilometers) northeast of Lovech in the Maarata area.

On arrival, follow the eco-footpaths through the enchanting setting of the falls, crossing more than 15 bridges and passing by lush slopes, pools, and caves. Stop to admire the fairy tale-like cascades and travertine terraces, and then return to Sofia where your tour finishes at your hotel.