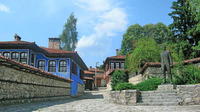 47 €
Koprivshtica Day Tour from Sofia
Koprivshtica is the Revolutionary capital of Bulgaria. Here in 1876 starts the April Uprising, the biggest uprising of the Bulgarians against the Ottoman yoke. Walking around the cobblestone streets of the town is like going back to the heroic past of the country. Visit the houses of the Bulgarian revolutionaries and learn about their sacrifice for the liberation of Bulgaria, as well the birthplaces of great poets and writers. A day in the town of Koprivshtica will make you feel like you have travelled to a place, taken out from the remarkable Revolutionary novels of the Bulgarian writers.Also on the way back we will stop at Chavdar, a neolithic village reconstruction, based on a real archaeological excavations in the area.
The Chronicler of the Bulgarian Uprisings – Zahari Stoyanov writes about Koprivshtica 'Village like a box, where there is nothing except rye, the winter is nine months, the roads are no more than two spans wide, and yet such a rabble of revolutionaries, workers and patriots. Inexplicable'. With this tour you will be able to convince yourself about the rightness of his words.


The tour starts at 9 am from your hotel in Sofia. After a two hour journey amongst picturesque road via the Balkan and Sredna gora mountain range you will reach the lovely town of Koprivshtica. With only 2000 citizens, the place have preserved its authentic look from 19th century. Typical Bulgarian Revival houses in different colours, kept from the mighty hills behind, will give you a warm welcome as soon as you enter the town.

For the next two hours you will visit six houses-museums from 19th century, an old church from the same period and have the chance to make unforgettable pictures, while learning about the intriguing history of the place. Learn about Todor Kableshkov and Georgi Benkovski, who have sacrified their lifes for the Liberation of Bulgaria, the life of Liyben Karavelov and the mastery of his pen, who have described the simple life of the citizens of Koprivshtica. In the middle of the tour you will stop for a delicius lunch in a restaurant, called 'Under the Old Pear tree'. Around 3 o'clock you will depart back to Sofia and arrive somewhere 5.30 pm with amazing memories from one unforgettable day back in the past.