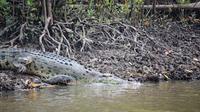 27 €
Johnstone River Glass-Bottom Boat Wildlife Cruise from Innisfail
Explore the beautiful Johnstone River in the heart of Innisfail Far North Queensland with real locals who have a great knowledge and history of the area. Your expert guide has a great eye for spotting crocodiles and magnificent wildlife while you take in the breathtaking scenery of the majestic mountains, mangroves and rainforest on board a well-appointed glass bottom boat.
What better way to explore the famous Heritage Wet Tropics and Great Green Way than on board a well-appointed glass-bottom boat travelling on the Johnstone River system. Your guide will share generations of local knowledge and history about the Innisfail area's rivers, rainforest, flora and fauna. The leisurely cruise takes you on the calm waters of the Johnstone River for a close-up look at the mangroves and abundant river life.

Your guide has an expert eye for spotting the local wild crocodiles either swimming in the river or sunning themselves on the sandbanks.  Either way it's a spectacular sight!  You may also spot turtles, snakes and other animals unique to the wet tropics who call the river banks home. 

Cruising with a small group of no more than 14 participants ensures a personal and memorable experience.  Other activites include crabbing for the Queensland mud crab. This unique cruising experience on the tranquil waters of the Johnstone River awaits you.  Come and enjoy a fun and memorable cruise.