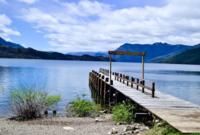 112 €
Hua Hum Day Trip from San Martin de los Andes including Lanin National Park and Cachin Waterfall Hike
From San Martin de los Andes, discover the wonders of the Argentine Patagonia as you make your way west to the border with Chile. On this 5-hour tour by minivan, traverse the tree-less plain of Pampa de Trompul and learn about its indigenous Mapuche culture. An easy hike leads you to Lake Lácar's Yuco beach, whose name means 'a place away from everything,' and the thundering Chachin Waterfall. Enjoy unbeatable views of Lake Nonghué from the settlement of Hua Hum, before reaching the Christ of Peace statue at the border.
Enjoy a convenient hotel pickup by minivan in the afternoon, and head west with your guide out of San Martin de los Andes. Your 5-hour journey takes you all the way to the border with Chile and covers a round-trip distance of roughly 75 miles (120 km).

Your scenic drive first takes you through Lanín National Park into the Pampa de Trompul, part of a local indigenous Mapuche community's territory. Pass by the Piedra de Trompul, or 'Chief's stone' in the Mapuche language. According to legend, strong thunder in its vicinity means rain or snow is coming. In the distance, look out for Savannah Mountain and Cerro Colorado, an extinct volcano.

Travel along a road that winds, dips and ascends amid lush green scenery to reach Peninsula de Yuco. Disembark here, and follow your guide for a pleasant stroll through an Andean-Patagonian forest of pellin, oak and coihue woods. Come out the other side onto Yuco beach, a site surrounded by myrtle trees, facing the pristine waters of Lake Lácar nestled in the Andes mountains.

Back aboard your minivan, continue to Hua Hum, a settlement located at the western end of Lake Nonghué, the source of the Hua Hum River that flows into the Pacific. Soak up the views from a lakeside lodge during a snack break (own expense).

Next, drive to the starting point for your easygoing 30-minute hike up to Chachin Waterfall. From a balcony, admire the 65-foot (20-meter) cascade roaring down into a clear green pool of water. Then travel toward the border with Chile, where you'll see Christ of Peace, a statue representing Argentina's brotherhood with its neighbor country. Learn more about this figure carved by artists from Easter Island.

Hop back aboard your minivan, head east and arrive back at your San Martin de los Andes hotel at night.

Please note: A minimum of two people per booking is required.