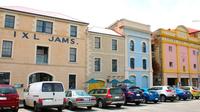 25 €
L'activité n'est pas disponible, essayez une autre recherche !
Hobart Walking Tours
Explore Hobart in a 2-hour small-group walking tour. Your expert, local guide will help you unearth Hobart's unique hidden gems as you wander through the city streets, laneways and historic locations. You'll also learn about the city's colonial history and the wild events that have shaped Hobart. A small-group walking tour with no more than 15 participants, you'll discover the history, scandal, grace and beauty of Hobart. Accurate historic research and excellent storytellers.
Hobart History, People and Places
A brisk 2-hour walking tour including Constitution Dock, key city locations & Salamanca Place, full of wonderful stories about the colonial history, people and places where it all started for Europeans in Tasmania. Take in the wonders of a convict-built city, with well-preserved Georgian and Victorian architecture, along with a great deal of convict stories & history. Hear about entrepreneurs, villains, heroes and hard-working convicts.

Alcohol History of Hobart
Tastings included! Extensive 2-hour walking tour from Hobart's famous waterfront along to Salamanca Place. We focus on the history of Hobart's colonial days and the fascinating role alcohol consumption played. This tour includes Tasmanian wine, whisky and cider tastings and information about local products. Full of history, entertaining stories and facts – and a lot of fun!

Historic Battery Point
Soak up the elegance, beauty and history of this quiet and exclusive area full of grand Georgian homes and the beautifully restored cottages of Arthur Circus. Hear about government corruption and dubious property dealings, the carousing Reverend Knopwood and rampaging shipping tycoons. We also focus on the wealth and class distinctions, and the development of this exclusive, expensive residential area.

Hobart City Convict Walk
Learn about the forced transportation of convicts, their daily lives and how they built the colony. Discover the intriguing stories of some of the 75,000 convicts who passed through the city of Hobart over the space of just 50 years. You will be guided on a carefully selected route through Hobart, from the docks up to the CBD and around to Salamanca to view first-hand the same locations and buildings that were a daily part of the life of a convict in Colonial Hobart.

Hobart's Dark Past Walking Tour
Explore the darker side of Hobart's convict and colonial past with this fascinating evening tour. Your guide knows all the juicy scandals and horrible history for those poor souls unfortunate enough to be sent to the feared penal colony of Van Diemen's Land. Brothels, gallows, cemeteries and punishment feature strongly on this tour so it's not for the faint of heart. Ages over 14 years recommended.