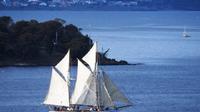 52 €
Hobart Lunch Cruise On Board The SV Rhona H Tall Ship
Experience tall ship SV Rhona H; an historic 1942 Ketch-rigged vessel. Enjoy lunch as you see the best of Hobart from the decks of this historic boat. Sails are always set and you are welcome to assist the crew or sit back and relax. The lunch cruise usually sails to Bedlam Walls Caves and Shag Bay where you can see these amazing rock formations from the boat and hear some of the history of the area. All trips sail under the Tasman Bridge where you can see our depth sounder change as we cross the shipwrecked "Lake Illawara".
Depart Sullivans Cove, Hobart and set sail as soon as the SV Rhona H is out the docks. Turn and head towards the Tasman Bridge, sail under the bridge and hear about the shipwrecked "Lake Illawara". Continue on towards Montagu Bay, Geilston Bay and Bedlam Walls.

Lunch is served once you reach this area as it is a great opportunity to see the rock formations of Bedlam Walls, the Shag Bay Quarry and hear the story of the Shag Bay Fertiliser Works. Tea, coffee and hot chocolate are also offered for those who would like it, as well as the choice of a glass of wine or Willie Smith cider.

The SV Rhona H then heads across the river towards the Zinc Works and Incat before heading to New Town Bay and Cornelian Bay. See Government House as you make your way back under the Tasman Bridge. You will be served a Tasmanian Cheese and Fruit Platter by the crew, what better way to enjoy your afternoon on the water.

Once back on the southern side of the bridge, sail towards Bellerive or Battery Point and Sandy Bay before heading back to the docks.

About the SV Rhona H
SV Rhona H is one of the last of the beautiful fishing ketches built by Ned Jack in Launceston. The 52' sailing ship is a perfect way to experience traditional sailing and the beauty of this part of Tasmania.

Having plied the waters of Bass Strait and its islands, SV RHona H remained in continuous commercial survey from the time she worked as a fishing boat, before being converted for sailing charters in 1988-1989. She is still in commercial survey making SV Rhona H a working example of Tasmania's maritime heritage.

All the crew on SV Rhona H are volunteers and love to share their passion for the oceans, traditional sailing and the SV Rhona H herself. The work on SV Rhona H is being done to restore the vessel to her former glory both above the deck and below. Come aboard to see the results so far, hear how this part of Tasmanian history is being kept alive as a real working boat.

Come aboard and share the adventure!