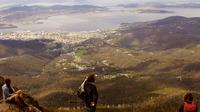 67 €
Hobart Hike: Mt Wellington Summit to Cascade Brewery Walk Including Gourmet Lunch
Mt. Wellington/kunanyi dominates the Hobart city skyline. This full-day (8hr) walking tour will take you on a journey from the Pinnacle down the mountain with a visit to Australia's oldest operation brewery, Cascades at days end. Dramatic views of Hobart and the western wilderness and varied alpine vegetation. Along the way you get to experience everything the mountain has to offer (alpine, eucalyptus, and rainforest vegetation; Dolerite and sandstone cliffs). Lunch is at the halfway point. At the historic springs area, enjoy a huge local spread of delicious Tasmanian produce that represents the local area. Continue down the mountain via 2 local trails (2hrs) and finish before a visit at Cascades brewery where you can enjoy a beer or relax in the garden. This is a truly unique experience, the only kunanyi/Mt. Wellington guided walking tour.
Pickups from Hobart CBD commence at 8:30am
Drive to Fern Tree (20-mins) where your guide will introduce you to Kunanyi - Mt Wellington, explain the walking trails and discuss the day
Drive to the Summit (15-mins), enjoy panoramic views over southern Tasmania before walking down the mountain starts. 
Spend the morning walking the Zig-Zag Trail (1.5/2-hours), enjoying the views of Hobart, Organ Pipes and learning of the harsh alpine environment. This trail follows a rocky path that includes manicured rock steps. - Downhill Walking. Steep in parts. 
Gourmet lunch will be served outdoors or inside a Mountain hut. Produce is sourced locally and represents Tasmania's world-class reputation for fine food. The menu has been designed to showcase local flavours and history. 
The afternoon walk is varied, visiting waterfalls and learning of the local bush rangers. This section has downhill / steep sections. Our guides will help out. 
Finish the Day at Australia's oldest brewery, Cascade. Enjoy a beer or just relax in the lovely gardens while looking back to the mountain top you just walked down from. Drive back to Hobart and reminisce on Hobart's incredible backyard.