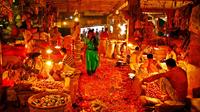 165 €
Highlights of Old Dhaka Including Kawran and Shankhari Bazar Visit and Lunch
We're cramming in all the highlights of Dhaka on this small group city tour that leads you into the old city: along the waterfront, through markets, and into the historic Shankhari Bazar district. And of course, no Dhaka tour would be complete without a ride aboard a rickshaw!
This Dhaka tour will lead you into the old city, where we'll explore sites like the Kawran Bazar vegetable market, which is located close to the rail line and an excellent spot for people-watching and snapping photos. Hundreds of people come here to shop and to work, and it'll give you a great peek into daily life in Dhaka. 
We'll then find our way over to the flower market and along the Sadarghat waterfront. This bustling port is constantly buzzing with activity, as boats of all sizes ferry passengers and cargo along the Buriganga River. 
Next up, we'll head to Ahsan Manzil, also known as the Pink Palace, which was built in the 1800s as the residential palace of the Nawab family. Today, it's a national museum showing the history of the royal home. If the museum is open, we'll go in and take a look around (note that the museum is closed on Thursdays — the tour will still run those days, and you'll see the museum from the outside).
From there, we'll go explore Shankhari Bazar, one of the oldest areas of Old Town, and the site of many historic Hindu temples — in fact, while Dhaka is primarily a Muslim city, this district has the highest concentrations of Hindus in all of Dhaka. In addition to seeing signs of local Hindu culture, you'll also see an Armenian church from the 18th century and the spectacular Star Mosque.
And of course, because this is the city of rickshaws, we'll include a ride as we sight see, so you can really get a feel for local life as you take in the city's most iconic sites!
We'll finish up our tour with lunch at a local restaurant specializing in Chinese, Thai, Indian, and Bengali cuisines, where you can unwind with your new friends, and get any tips you need for the rest of your day in Dhaka!