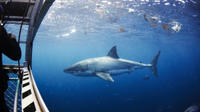 194 €
Great White Shark Cruise with Optional Cage Dive and Aqua Sub from Port Lincoln
Get out onto the water with the Great Whites! If there is one thing you must add to your bucket list, it has to be shark cage diving with Great Whites! Featuring Australia's first advanced eco-certified shark cage diving experience, this tour offer visitors the once-in-a-lifetime opportunity to view the legendary Great White Shark in its natural habitat. Listen to your favourite music and "Rock Out" with the Great White Sharks! For an extra fee ($125) payable on-site, you can also board the world's first Shark "Aqua Sub," revolutionary new way to view Great White Sharks in their natural habitat. Featuring a glass viewing area with a 360 degree underwater view, you can see sharks while staying completely dry! Cage diving is also included in this fee so our more adventurous passengers can get face-to-face with some Great Whites!.
Your day with the Great White Sharks!
This full-day tour takes you from the Port Lincoln marina to 'shark bay' at Neptune Island, approximately 70 kms south of Port Lincoln. On the way, see spectacular scenery as you cruise through the Thorny Passage and expect sightings of inquisitive local dolphins and sea birds.

To ensure we are protecting the natural environment, we use audio sound vibrations to attract the sharks to the boat rather than berley or chum. The benefits of using sound vibration is that it is omnidirectional, it's instantaneous and completely eco friendly – and funnily enough, the great white shark's favorite choice of music is the rock tunes from AC/DC. Lately they have also taken a liking to The Hilltop Hoods!!

The vessel is also equipped with a shark cage so that the more adventurous travelers can get up close and personal with the sharks. For those travelers who want to view the sharks more closely but prefer to keep dry, there is the Aqua Sub, a submerged glass chamber that gives you 360-degree views. An optional AUD$125 Underwater Access Fee can be paid onboard and includes access to both activities.